Yaz / Yasmin / Ocella Blood Clot Lawyers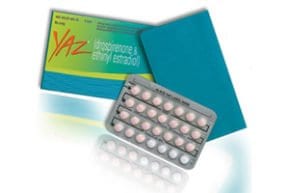 The lawyers of Davis, Saperstein & Salomon, P.C., are reviewing claims that the Yaz, Yasmin and Ocella birth control pills caused women to suffer blood clots, strokes, heart attacks and death. If you or a loved one suffered harm after using one or more of these oral contraceptives, contact us to receive an immediate review of your case.
Why Have Yaz / Yasmin / Ocella Users Filed Lawsuits?
Thousands of women and their families across the country have filed product liability lawsuits against Bayer, the German manufacturer of Yaz, Yasmin and generic form, Ocella.
The lawsuits allege that Bayer knew or should have known that Yaz, Yasmin and Ocella could increase a woman's risk of suffering blood clots, stroke, heart attack or death, but the company failed to warn about those risks.
The plaintiffs have filed lawsuits in both state and federal courts. The U.S. Judicial Panel on Multidistrict Litigation consolidated all federal court Yaz lawsuits in the Southern District of Illinois (MDL No. 2100). At one point, the MDL involved more than 12,000 lawsuits, making it one of the largest in country. Numerous states consolidated cases as well, including New Jersey and Pennsylvania.
In recent years, Bayer has paid billions to settle thousands of cases. However, numerous claims remain pending against the company. Women and their families continue to file lawsuits, seeking compensation for the harm they have suffered.
What Is Yaz?
Yasmin and Yaz are pills that the U.S. Food and Drug Administration (FDA) approved for the U.S. market in 2001 and 2006, respectively. Ocella is the generic version of these drugs. Doctors prescribe the pills for the prevention of pregnancy, treatment of moderate acne and treatment of premenstrual dysphoric disorder (PMDD) symptoms.
The drugs contain two main ingredients: An estrogen component known as ethinyl estradiol and a synthetic hormone, or progestin, known as drospirenone. When these two ingredients work together, they prevent pregnancy.
Manufacturers have used progestins in oral contraceptives since the 1960s. Drospirenone is called a "fourth generation" progestin. Yaz, Yasmin and Ocella were the first birth control pills to contain the synthetic hormone.
What Are Yaz / Yasmin / Ocella Side Effects?
Yaz, Yasmin and Ocella birth control pills have been associated with serious, life-threatening side effects. In particular, the drospirenone ingredient in these pills may trigger high levels of potassium in a woman and cause a condition called hyperkalemia, which can in turn lead to the formation of blood clots and related health problems.
In 2011, the FDA reported that study results showed that drospirenone-containing birth control pills increased the risk of blood clots. In 2012, the FDA ordered Bayer to revise the labeling of these drugs to convey that some studies had found as high as a three-fold increase in the risk of blood clots among users of these oral contraceptives.
Yaz, Yasmin and Ocella users have reportedly suffered deep vein thrombosis (DVT), pulmonary embolism (PE), heart attacks, strokes and death. The drug has also been associated with gallbladder disease.
What Compensation Can You Pursue in a Yaz / Yasmin / Ocella Lawsuit?
If you or a loved one has suffered blood clots or other side effects after using Yaz, Yasmin or Ocella birth control pills, you may be entitled to damages that include:
Past and future medical expenses
Lost income and diminished future earning ability
Pain and suffering, including emotional distress
Wrongful death damages (if you lost a loved one)
If warranted, punitive damages.
The product liability lawyers of Davis, Saperstein & Salomon, P.C., can assess your eligibility to pursue compensation and the amount of compensation potentially available to you.
Our Yaz / Yasmin / Ocella Blood Clot Lawyers Are Ready to Help You
The attorneys of Davis, Saperstein & Salomon, P.C., have extensive experience in both class action and individual products liability claims. We have served leadership roles in numerous nationally litigated cases involving major medical device and pharmaceutical companies. For more than 30 years, we have stood up for the rights of consumers. Our record includes more than $400 million recovered on behalf of our clients.
We thoroughly investigate cases and consult with leading experts in order to prepare strong individual claims for litigation. Throughout a case, we pay close attention to our clients' goals and work tirelessly to achieve them.
Contact us today to schedule a free consultation. We will charge no upfront costs or legal fees unless we obtain a recovery for you.
More Information About Yaz, Yasmin and Ocella
Yaz Prescribing Information, U.S. Food and Drug Administration (FDA)
BMJ: Ingredient in Bayer's Yaz Causes More Blood Clots Than Rivals, CBS News