Injured at American Dream Shopping Center in New Jersey?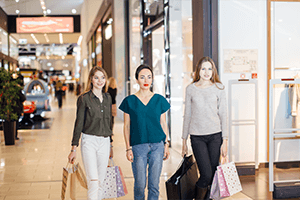 When fully opened, New Jersey's American Dream mall will have more than 350 shops, over 100 dining options and more than a dozen entertainment venues including a Nickelodeon Universe theme park, a DreamWorks water park, an ice rink, a mini-golf course and an indoor ski and snowboard park. The huge retail and entertainment complex, located adjacent to the Meadowlands in East Rutherford, is projected to attract 40 million visitors a year and become a primary destination for shoppers and tourists.
With that volume of visitors and pedestrian traffic, unfortunately, some people will sustain serious injuries while shopping in retail outlets, riding theme park rides, or visiting other entertainment venues. The American Dream experience may, in fact, become a nightmare if you incur significant medical bills and you do not have a knowledgeable personal injury attorney standing up for you. At Davis, Saperstein & Salomon, PC we are focused solely on helping injured people.
If you or your loved one is injured at American Dream mall as a result of an unsafe condition or negligence on the part of a commercial property owner, you need to contact a knowledgeable mall injury attorney to discuss your legal options. You may have a legal right to demand compensation for your pain and suffering as well as your medical bills, lost wages, and related expenses. Our highly regarded attorneys at Davis, Saperstein & Salomon, PC have been standing up for accident victims for nearly 40 years and have obtained $800 million in verdicts and settlements for clients. Our New Jersey personal injury lawyers can review your shopping center injury and discuss whether you are entitled to demand compensation for medical bills, lost wages from missed work, and pain and suffering.
Call now for a free case review and no-obligation confidential consultation.
What to Do After an American Dream Meadowlands Injury Accident
If you have sustained an injury at American Dream mall, it is important to protect your rights. Many shopping mall accidents are caused by unsafe conditions and hazards that the owners or managers of a commercial property neglected to repair or post adequate warnings.
The store owner or mall management may try to contend that the accident was your fault. You need a knowledgeable N.J. mall injury lawyer to stand up firmly on your behalf and hold the at-fault party accountable.
After a shopping mall accident, you should:
Report the accident and your injuries to the property owner
Take photos of the accident scene
Seek medical treatment
Decline to give a statement to the property owner's insurance company, if contacted
Avoid discussing your injury on social media
Keep a file of your medical bills related to the accident
Consult with an experienced personal injury lawyer before accepting any quick insurance settlement offer
And demand that they preserve and not destroy any video surveillance of the accident scene. (This is a new mall and they certainly have an abundance of hidden cameras.)
After an accident, you should report your injury to the commercial property owner, store owner, or mall security office and ask to receive a copy of the accident report.
You should use your phone camera to take photos of the scene of the accident as soon as possible to document the unsafe condition that caused your injuries. The evidence of the hazard may be lost if it is not photographed and documented immediately before the condition is repaired.  Take plenty of pictures of any injuries, including all black and blue marks on your body.
You should seek prompt medical treatment and inform the doctor how your injury occurred. A doctor's report provides independent confirmation of your injury and will be helpful if you need to file an injury claim.   Make sure you tell your doctor about all of your injuries, no matter how minor you may think they are at the time. Sometimes, painful symptoms develop over weeks and months following an accident.
You should avoid discussing your accident or injuries on social media. The insurance company or lawyer for the mall may use your words to dispute your claim or blame you for the accident.
You should talk with an N.J. shopping mall injury lawyer at Davis, Saperstein & Salomon, PC. Your conversation with an experienced New Jersey injury lawyer at Davis, Saperstein & Salomon, PC is privileged and confidential.  That means it's subject to protection under the attorney-client privilege. We can give you legal advice right on the spot when you call.
Our law firm has extensive experience handling mall injury cases, also referred to as premises liability cases, and can evaluate the merits of your case and discuss your options.
Commons Reasons for Shopping Mall Injury Lawsuits
The first question to ask after an accident at a commercial property such as the American Dream complex in East Rutherford is whether the accident could have been avoided.
Owners of commercial property such as retail stores and malls that invite visitors onto their premises have a greater obligation to ensure the safety of visitors. Were there reasonable steps the property owner should have taken to prevent the accident?
The common types of claims involving shopping malls include:
Mall and Store Employees injured on the job
Tripping hazards within stores and their tenants
Food Court injuries
Bathroom injuries
Elevator and escalator accidents
Amusement park ride accidents (must be reported within 90 days)
Injuries caused by falling merchandise
Icy parking lot and sidewalk accidents
Inadequate security, such as poorly lighted stairs or parking lots
False arrest by overly aggressive security staff
Slip and fall accidents often result from property defects such as potholes or buckled pavement. During winter months, property owners are required to remove snow within a certain amount of time.
Commercial property owners whose neglect or disregard for safety results in injuries to visitors may be required to pay compensation to the accident victim for their pain and suffering including their losses and injuries.
We are proud to have helped thousands of accident victims recover just compensation and rebuild their lives after injuries caused by slip and falls, escalator and elevator accidents, pedestrian accidents, and other kinds of personal injury accidents.
American Dream Amusement Ride Injury Lawyer
The American Dream complex will have multiple theme parks including a Nickelodeon Universe theme park with more than 35 rides and rollercoasters, a DreamWorks water park with 40 water slides, an indoor snow park with multiple ski slopes and other forms of entertainment. Water parks are the scene of many injuries in New Jersey.
If you are injured on an amusement ride such as a roller coaster or water slide at an American Dream theme park, New Jersey has special rules that apply. The Carnival and Amusement Ride Safety Act governs the safety of amusement rides in New Jersey. Ride operators are required to register the rides and have them inspected annually to ensure their safety.
A claim against an American Dream amusement park or theme park may require filing a lawsuit alleging that the amusement park owner was negligent in the way the ride was operated or maintained. In some cases, the company that designed or manufactured the ride equipment may be held liable for producing defective equipment.
Extremely Important Legal Advice for Those Injured at American Dream Mall
We recommend that you hire a skilled injury lawyer with expertise in suing amusement parks because there is a hidden trap for the unknowing consumer. A pre-condition for filing a lawsuit against an amusement park in New Jersey is the legal requirement to file a Written Report of Accident with the amusement park within 90 days of the time of the incident. The accident report must include the name of the injured person, a brief description of the location of the incident, the alleged cause of the accident, the name of the ride operator, and the names of any witnesses. In certain situations, for good cause, New Jersey law allows a Superior Court judge to extend the 90-day limit for filing an accident report.
If you call Davis, Saperstein & Salomon, PC promptly after an accident, our amusement park and water park injury lawyers can make sure the report is filed and the amusement park owner receives proper notice of your injury. Our law firm has the resources to conduct a thorough investigation of the amusement park accident. We will determine how the accident happened and identify the parties that should be held liable.
Why Hire Davis, Saperstein & Salomon, PC for Your Shopping Mall Accident Claim
If you have been injured at American Dream, you have come to the right place for help. The attorneys at Davis, Saperstein & Salomon, PC have extensive experience in the area of premises liability law. Our injury law firm has over 25 skilled and experienced personal injury lawyers who will demand justice and stand up against all the responsible powerful insurance companies as your attorneys.  If necessary, we will drag them into court and allow a jury to deliver the justice you deserve. That's how we fight for the consumer and make sure mall owners keep their properties safe for their customers.
We know how to build a strong case against a commercial property owner such as a shopping center or amusement park. We know the types of evidence required to prove the property owner's negligence and liability for a serious injury.
The sooner our shopping center accident attorneys get involved in a case and start an investigation, the better our chances of preserving the evidence needed to have a successful case.
We prepare each shopping mall injury case as if it is going to trial. That thorough preparation allows us to negotiate from a stronger position. Insurance companies are more likely to offer us their highest dollar settlement because they recognize that the Davis, Saperstein & Salomon, PC attorneys that are Certified by the Supreme Court of New Jersey as Civil Trial Attorneys will go the extra mile and will go to trial to fight for justice. As a result of our aggressive approach, we are successful in settling most cases without a trial.
We handle personal injury cases on a contingency fee basis. Accident victims do not pay a lawyer's fee unless we obtain a settlement or court award. You never get an hourly bill.  You only pay us if you get paid.
Our personal injury attorneys are proud of our record of accomplishment. We have represented over 30,000 clients over the years and secured $800 million in verdicts and settlements for people throughout New Jersey and New York. We are justifiably proud of the assistance we have provided people struggling to overcome serious injuries.
The Supreme Court of New Jersey says that the selection of an attorney is an important decision requiring careful thought.  We agree. Talk to us before you hire, retain and sign up with lawyers who invest their money in billboards or other gimmicks.  For an injury case caused at this New Jersey mall, you should consider the benefit of hiring local lawyers, that are familiar with local New Jersey laws, Bergen County Judges, Bergen County Juries, and Bergen County medical providers, the insurance company lawyers, as well as defendant's expert medical witnesses.  Don't be fooled by out of state lawyers from such states as Florida advertising for New Jersey cases. Davis, Saperstein & Salomon P.C. has been in Bergen County for over 35 years and all founding partners grew up in Bergen County, New Jersey.
Our law firm's main office is located in Teaneck, just across the Hudson River from New York City just minutes from the American Dream Mall. Our law firm is highly regarded throughout New Jersey. Many of our cases come through referrals from previous clients who were pleased with our efforts on their behalf. Take a look at what past clients say about our legal services, then call to find out how we can help you.