New Jersey Slip and Fall Lawyer
When you visit a person's home or apartment, go to work in an office building, shop in a store, walk through a parking lot, or use an elevator or escalator, you have every reason to expect that you will be safe. Unfortunately, property owners and occupiers often fail to inspect their premises, fix hazardous conditions or warn visitors about the risks they face. Their negligence can cause visitors to suffer serious slip and fall accidents.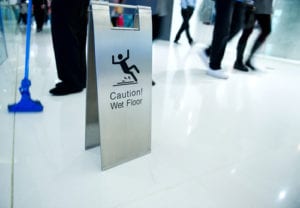 If you have suffered injuries in a slip-and-fall accident in New Jersey, you may have the right to bring a premises liability claim and recover compensation from the person, company or government that owns or controls the property. This compensation can cover your medical bills, lost income, pain, suffering, and more. The experienced personal injury lawyers of Davis, Saperstein & Salomon, P.C., have more than 30 years of experience with helping slip and fall injury victims and their families throughout New Jersey.
We know what it takes to pursue full and fair compensation for those who suffer harm due to the negligence of property owners and occupiers. We want to help you, too.
Contact us today to discuss your case in a free, no-obligation consultation.