New Jersey Construction Accidents & Injuries Lawyer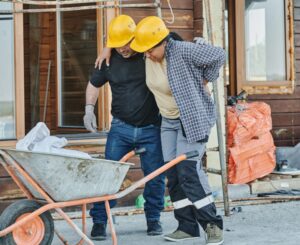 Working in construction can be a dangerous job. When the Bureau of Labor Statistics looked at fatal workplace injuries in New Jersey for one recent year, construction workers made up the largest group of injury victims. If you have been hurt in a construction accident in New Jersey, contact Davis, Saperstein & Salomon, P.C. Our knowledgeable and compassionate construction accident lawyers can help you pursue workers' compensation benefits and understand New Jersey's workers' comp laws. We may also be able to help you file a personal injury lawsuit against a third party responsible for your injuries, so you can recover additional compensation.
Our New Jersey & New York personal injury law firm has helped more than 30,000 accident victims in over 40 years in business, recovering more than $800 million in compensation for our clients. We are prepared to defend your rights and make your case our top priority. Contact us today for your free case review with a New Jersey construction accident attorney.
What Are the Most Common Construction Accidents in New Jersey?
The New Jersey Department of Health reports that construction accidents accounted for over 20 percent of all fatal workplace injuries statewide for nearly 25 years, making construction accidents the largest share of all workplace fatalities in that period.
Some of the most common types of construction accidents in New Jersey are:
Falls — Many fall accidents at New Jersey construction sites result from some form of negligence, such as a spill that wasn't cleaned up or a lack of safety railings. Falls from unsafe ladders can be traumatic and devastating. Even a minor fall can result in significant injuries such as head trauma, spinal cord injuries, or injuries to internal organs.
Workers struck by objects — A helmet is not always enough to protect construction workers if they are struck by falling objects, such as tools or equipment that have been dropped. Construction workers can also be injured by objects flying through the air after an explosion or equipment malfunction. These accidents can lead to puncture wounds, traumatic brain injuries, and other serious medical conditions.
Electrocutions — Construction workers frequently work around live electrical wires and heavy-duty machinery. If these wires become frayed or there's an equipment malfunction, a worker could suffer a severe electric shock. Electrocutions can cause burns, nerve damage, and other injuries.
Workers caught between two objects — Construction sites have heavy equipment and large vehicles, which means workers can easily become crushed or pinned between two heavy objects if proper precautions are not taken. These accidents can lead to crushed or severed limbs and other traumatic injuries.
Structural collapses — If a building comes down at a construction site while workers are inside or nearby, the results are often catastrophic. Workers can be struck or crushed by falling objects, or they might sustain a serious injury after falling to the ground.
Explosions and fires — Certain chemicals used in the construction industry can ignite if exposed to heat or electricity, leading to a fire or explosion. Workers caught in a fire or explosion can suffer severe burns and other injuries.
Equipment failures — Many pieces of construction equipment can cause severe injuries if they fail or malfunction. These malfunctions can happen if the equipment is not properly maintained or workers are not adequately trained to use it.
Faulty railings and stairways — A half-finished building is a safety nightmare for construction workers. If the stairways are not built properly or safety railings are not installed, a single slip-up can cause a worker to fall and sustain a major injury.
Toxic chemical exposure — If construction workers do not have proper respiratory equipment, inhaling fumes from certain chemicals can cause lung damage. Touching certain chemicals can cause painful chemical burns.