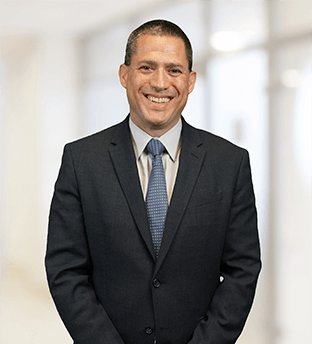 Evan D. Baker, Esq. is Partner and certified by the Supreme Court of New Jersey as a civil trial attorney at Davis, Saperstein & Salomon, P.C. Evan concentrates his practice on helping the seriously injured get the compensation they deserve. Over the
the course of his career, Evan has provided expert counsel in all types of motor vehicles, trucking and bus accidents, slip, trip & fall accidents, and product liability claims.
Evan is deeply dedicated to ensuring that each of his clients receives the best result possible. He takes the time to get to know each client on a personal and professional level learning the struggles they
face as a result of their injuries. It is Evan's firm belief that a strong and open attorney-client relationship makes a key difference in the overall settlement or outcome of a case, especially when the case is
presented to a jury.
Evan has a reputation for going "above a beyond" for his clients and making sure that they are satisfied with their legal representation. He always makes himself accessible to answer and address clients' questions and concerns. and regularly follows up with clients to make sure they get the medical attention and treatment they need to manage their injuries. Evan's approach to working with clients is simple— "I just treat my clients the way I would want to be treated and do what I can to make their lives easier during a difficult time. It takes extra time, but it's always worth it."
Evan is certified by the Supreme Court of New Jersey as a Civil Trial attorney, a distinction held by less than three percent of all New Jersey licensed attorneys. He earned his Bachelor's degree in History from Rutgers University where he was named a Henry Rutgers Honors Scholar and was inducted into Phi Beta Kappa, an academic honor society reserved for those graduating in the top ten percent of their class. Evan subsequently earned his Juris Doctorate from Seton Hall University School while serving as a judicial intern to Alvin Weiss, P.J.S.C.
Honors & Awards
Disclaimer: Pursuant to the Rules of Professional Conduct as promulgated by the Supreme Court of New Jersey, lawyers who promote themselves or their firms are required to state the following: "No aspect of this advertisement has been approved by the Supreme Court of New Jersey." This disclaimer applies to all the attorney rating agencies and organizations listed below. Some or all require payment of onetime or annual fees. For further information, as to their internal selection and rating criteria please click on the respective links below.

*Attorneys may be designated by the Supreme Court as "certified attorneys" if they demonstrate sufficient levels of experience, education, knowledge and skill in a specific area of law or practice, pass a rigorous examination and receive recognition from peers as having sufficient skills and reputation in the designated specialty. See Certification Process.
disclaimer

*Super Lawyers is a listing of lawyers who are selected based on peer nominations and evaluations combined with independent research. Each candidate is evaluated on 12 indicators of peer recognition and professional achievement. Thomson Reuters publishes the listing. See Selection Process.
disclaimer

The National Trial Lawyers, Top 100 Trial Lawyers
*The National Trial Lawyers, Top 100 Trial Lawyers, is an invitation-only organization. Members are selected based on peer nominations and third-party research. The selection criteria include a lawyer's leadership, reputation, influence, stature and public profile. Attorneys who are selected for this organization must pay a fee. There are at least 100 members of the Top 100 Trial Lawyers per state. See Selection Process.
disclaimer