Truck Accident Lawyer in Newark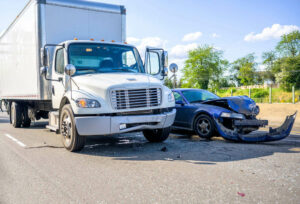 As the most populous city in New Jersey, Newark is served by a number of major roads and highways. New Jersey Route 21, U.S. Route 1/9, U.S. Route 22, Interstate 78, Interstate 95, Interstate 280, the Garden State Parkway, and the New Jersey Turnpike all pass through Newark.
With so much commercial motor vehicle traffic passing through the Gateway City, accidents involving commercial trucks and passenger vehicles are unfortunately common. The size and weight difference between large trucks and other vehicles often means that the occupants of cars, trucks, and motorcycles are the ones who suffer severe or fatal injuries in the event of a collision.
If you or your loved one has suffered serious injuries or your loved one was killed in the greater Newark area, you may have the right to seek compensation if the accident was caused by another driver's negligence. Do not assume that the trucking company or their insurance representatives will do the right thing voluntarily and pay you what you're owed. Before accepting an insurance company's offer or signing anything presented by an adjuster, seek the guidance of Newark truck accident attorneys who have the experience and resources to hold the truck driver and trucking company accountable.
Davis, Saperstein & Salomon, P.C. has been fighting for truck accident victims across New Jersey for more than 35 years.  A Newark truck accident attorney at our law firm can answer your legal questions and explain your rights during a free consultation. Call (973) 854-1000 or contact us online for a free consultation.
Types of Truck Accidents in Newark, NJ
A commercial truck is larger than most other vehicles on the road. When a trucking company is negligent in driver hiring or training, or maintenance of the vehicle, and an accident occurs, innocent people may suffer life-altering injuries.
It is crucial to understand that every truck accident case is different. Each tractor-trailer crash will have its own set of factors that contributed to the crash.
Some kinds of truck accidents are more common than others. A few of the most frequent crashes commercial trucks are involved in include:
Jackknife Accidents
T-Bone Collisions
Rear-End Collisions
Intersection Accidents
Underride Accidents
Blocking Accidents
Override Accidents
Wide-Turning Accidents
Overloaded Vehicles
Head-On Collisions
Rollover Accidents
Some truck accidents could also be so-called "sideswipe" crashes, which is a collision involving the side of a truck and the side of a vehicle traveling in the same direction or opposite directions.
Top Causes of Truck Accidents
The Large Truck and Bus Crash Facts 2017 from the Federal Motor Carrier Safety Administration (FMCSA) reported that at least one driver-related factor was recorded for 32 percent of the large truck drivers involved in fatal crashes in 2017. Speeding was the most frequent contributing factor for drivers of both trucks and passenger vehicles. Distraction or inattention was the second most common driver-related factor for large truck drivers.
FMCSA states that research it commissioned showed that commercial truck drivers are six times more likely to be involved in a crash or near crash if they are dialing a cell phone while driving. The research showed that drivers took their eyes off the road for an average of 3.8 seconds while dialing a phone. At 55 miles per hour, the distance travelled in 3.8 seconds equates to the length of a football field.
FMCSA prohibits commercial truck drivers from holding a mobile device to make a call or dialing by pressing more than a single button. Commercial truck drivers must use a hands-free phone while driving. While hands-free options allow the driver to keep both hands on the wheel, it could be argued that even talking on the phone in hands-free mode is a dangerous distraction while driving.
Other common causes of truck accidents include:
Brake failure
Driver fatigue
Failure to maintain vehicle
Inadequate driver training
Mechanical defects
Overloaded trailers
Inclement weather
Unsecured loads
Driving under the influence (DUI) of drugs or alcohol
Some trucks drivers cause accidents by violating traffic laws. New Jersey police may issue a citation to a driver for traffic violations such as speeding, failure to yield, making an improper lane change, tailgating or operating under the influence of alcohol or drugs. If a truck driver faces criminal charges related to his or her driving, the criminal case will be handled separately from a personal injury lawsuit. A truck driver may be held civilly liable for damages, regardless of whether the driver is found guilty of the criminal charge.
It is also possible for certain truck accidents to stem from violations of federal regulations. For example, truck drivers have a strict limit on the number of hours they can drive in a day and week. Both the driver and the trucking company could be violators when a driver was operating in violation of hours of service rules.
Liability in Truck Accidents
Many truck accident victims believe the truck drivers were at fault for their crashes, and truck drivers can certainly be held liable for the injuries that they cause.
The question of liability in truck accidents can be complicated. Many commercial truck accidents may involve multiple liable parties. Some of the other people or entities that could be liable include:
Truck Owner
Maintenance Company
Truck Part Manufacturer
Shipping Agency
Cargo Loading Company
Governmental Entity
The law allows for employers to be held civilly liable for the acts of their employees or agents under a legal doctrine known as "Respondeat superior." Many trucking companies will try to deny liability when a truck driver is an owner-operator, or independent contractor. Davis, Saperstein & Salomon, P.C. will fight to make sure every negligent party is held accountable.
The number of possible liable parties reinforces the need for a thorough investigation of the accident. Trucking records need to be analyzed to determine whether a truck received proper maintenance and whether lack of maintenance contributed to your crash.
Because of the damage a large truck can cause, federal law requires trucking companies to maintain significantly higher amounts of liability insurance than standard auto liability policies. It is possible that settling a truck accident claim may involve dealing with multiple insurance companies representing different parties involved in the accident. You will want the help of an experienced Newark truck accident lawyer to negotiate with the insurers.
An insurance company may offer you a lump sum settlement to resolve your case, and an agent might even tell you that accepting the offer will allow you to keep more money for yourself. Nothing could be further from the truth.
An initial settlement offer from an insurer is almost certainly much less than what your claim is actually worth. You will want Davis, Saperstein & Salomon, P.C. to negotiate a full and fair settlement or file a lawsuit when the negotiations are unproductive.
How a Truck Accident Lawyer in Newark, NJ Can Help You
The attorneys at Davis, Saperstein & Salomon, P.C. understand that truck accident injuries frequently result in dramatic changes to a person's life. Some people will spend weeks, months, or even years recovering from their injuries. Some victims are left with disabilities that leave them unable to return to work.
Our firm has helped people who have suffered such injuries as:
Traumatic brain injuries (TBIs)
Lacerations
Spinal cord injuries
Fractures
Paralysis
Muscle strains
Neck injuries
Internal organ injuries
Some people die from the injuries suffered in truck accidents. Our Newark fatal injury lawyers at Davis, Saperstein & Salomon, P.C. can help your family file a wrongful death lawsuit if you've lost a loved one in a tragic accident that was not his or her fault.
Davis, Saperstein & Salomon, P.C. has a team of 25 lawyers ready to fight for you. Our national headquarters is just across the river from Manhattan. The legal team is led by the highly regarded attorneys who founded the law firm. Samuel L. Davis won the Clarence Darrow Award and is a member of the American Academy of Forensic Sciences and New Jersey Association for Justice.
Marc C. Saperstein was named one of the Top 100 New Jersey Trial Lawyers by the American Trial Lawyers Association (ATLA), has been certified as a civil trial attorney by the Supreme Court of New Jersey, and was rated AV Preeminent by Martindale-Hubbell, a peer rating denoting the highest level of professional excellence.
Garry R. Salomon is a trustee for the Teaneck Chamber of Commerce, on the Board of Governors of the New Jersey Association for Justice, and a member of the American Association for Justice, New Jersey Bar Association, and Bergen County Bar Association.
Davis, Saperstein & Salomon, P.C. has secured more $400 million in verdicts and settlements for our clients, and we're ready to apply our experience to help you with your truck accident case. Call (973) 854-1000 or contact us online to set up a free consultation.