Truck Accident Lawyer in Pennington, NJ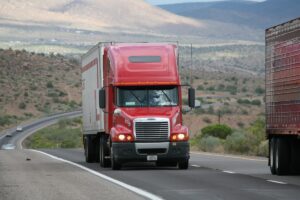 Semi-truck accidents are often devastating, causing severe property damage and life-altering injuries. Victims of semi-truck accidents often face financial hardship due to expensive medical bills, lost wages, and other crash-related losses. If you were injured in a collision with a semi-truck, you could be entitled to compensation for these and other losses. Let Davis, Saperstein & Salomon, P.C. help you pursue the money you're owed by the party who hurt you.
Our skills, resources, and knowledge are why we have secured more than $800 million in verdicts and settlements for our deserving clients. Our lawyers are prepared to take on large insurance companies to seek the best outcome possible, and we don't settle for less. Contact our office today for a free case evaluation with one of our Pennington semi-truck accident lawyers.
Types of Truck Accidents
Because commercial trucks are so large and heavy, they can cause serious property damage and severe injuries in accidents with other road users. While there are various types of semi-truck crashes, some of the most common types of truck accidents include the following:
Rollover accidents
Underride accidents
Jackknife accidents
Wide-turn accidents
Cargo-related crashes
No-zone accidents
Tire blowouts
Head-on collisions
Rear-end accidents
Sideswipe accidents
T-bone collisions
FMCSA Regulations for Truck Drivers
Commercial trucks often travel across state lines delivering goods to various parts of the United States. To ensure the safety of everyone on the road, the federal government established the Federal Motor Carrier Safety Administration (FMCSA). The mission of the FMCSA is to prevent commercial truck-related accidents and fatalities on U.S. roadways. One of the ways the FMCSA tries to achieve this goal is through federal safety regulations that nearly all commercial trucking entities must follow today.
The FMCSA regulates a wide range of trucking activities — from the transportation of hazardous materials to the inspection, maintenance, and repair practices of commercial vehicles. Some of the most important regulations enacted by the FMCSA are the hours-of-service (HOS) regulations and the rules governing the use and installation of electronic logging devices (ELDs).
To protect commercial drivers and other motorists from the devastating effects of driver fatigue, the FMCSA regulates the number of hours truck drivers are allowed to operate their vehicles in a given day and week via the HOS regulations. Property-carrying commercial truck drivers may only drive a maximum of 11 hours after 10 consecutive hours off duty. Drivers are prohibited from driving more than 60/70 hours on duty in a 7/8 consecutive day stretch. Additionally, drivers must take a 30-minute break after eight hours on the road without interruption.
The FMCSA also mandates that most motor carriers and drivers equip their vehicles with an ELD. These devices record crucial information about a driver's hours on the road, including engine hours, mileage, location data, and driver identification information. The data on an ELD device can be vital in establishing liability for an accident involving a truck driver.
Common Causes of Truck Accidents in Pennington, NJ
While various factors can contribute to a truck crash, most truck accidents are caused by driver error. The FMCSA estimates at least 87 percent of large truck accidents are caused by driver error or carelessness. Ten percent of semi-truck accidents can be attributed to vehicle issues, while environmental conditions account for only three percent.
The most common causes of truck accidents involving driver carelessness, recklessness, or error include the following:
Speeding or driving too fast for the conditions
Distracted driving
Driving under the influence of drugs or alcohol
Fatigued driving
Tailgating
Unsafe lane changes
Aggressive driving behaviors
Sometimes a third party, such as a trucking company or parts manufacturer, may be liable in a collision. Some common ways other parties may cause truck accidents include:
Unsafe cargo loading practices
Not properly training drivers
Not properly screening drivers
Not maintaining the vehicle
Mechanical or manufacturing defects
Poor road conditions, such as potholes or debris on the road
Bad weather, such as fog, snow, heavy rain, or strong winds
Common Injuries Sustained in Semi-Truck Accidents
The average semi-truck weighs 80,000 pounds, while the average passenger vehicle weighs only 3,000 pounds. A truck that collides with a passenger vehicle can cause catastrophic damage. Some of the most common injuries from truck accidents include:
Neck and back injuries
Facial injuries
Fractured bones
Organ damage
Internal bleeding
Soft tissue injuries
Physical burns
Chemical burns
Lacerations
Contusions
Amputation
Spinal injuries and paralysis
Traumatic brain injury (TBI)
Post-traumatic stress disorder (PTSD)
What to Do After a Truck Accident That Was Someone Else's Fault
If you were involved in a truck accident, there are steps you can take to protect your health and your legal rights. You should take the following actions after a collision with a semi-truck:
Call the authorities — Always call the police after a semi-truck accident and ask for a copy of the police report.
Seek medical attention immediately — Your health and safety should always come first. Seek medical help right away, even if you appear uninjured. Some symptoms take days or weeks to develop. Your medical records can also be vital evidence in your case.
Exchange information with the truck driver — Exchange contact and insurance information with the truck driver. Also, get the name and number of their employer.
Document the scene as thoroughly as possible — Take pictures of the scene, including skid marks on the road, street signs, and weather conditions. Write down the details of the accident while they are fresh in your mind.
Gather the contact information of potential witnesses — Get the contact information of witnesses at the scene and ask for a brief description of what they saw.
Follow your doctor's medical advice and instructions — Always follow your physician's instructions and stick to your prescribed treatment plan. This can help you heal more quickly and show that you are taking your health seriously.
Do not post on social media — Stay off social media until your case is resolved. Do not post about the accident or your injuries.
Keep a record of all your expenses related to the accident — Gather copies of all your medical bills and receipts for post-accident expenses and keep them in a safe location. These documents can help your attorney estimate the value of your truck accident claim.
Contact an attorney — The driver and trucking company likely already have an attorney. Protect your rights and talk to a skilled truck accident attorney as soon as possible. Do not speak to any insurance companies without consulting with your lawyer first.
Compensation Available for Truck Accident Victims in Pennington
If you were injured in a truck accident, you might be able to seek compensation for your financial and personal losses. The financial recovery you can pursue depends on factors such as the types of insurance policies available, who was liable, and the severity of your injuries. However, you could be compensated for the following:
Medical expenses related to treating your injuries, including hospital visits, doctor's appointments, physical therapy, prescription medications, and medical equipment
Lost wages if you cannot work due to your injuries
Loss of future earning capacity if your injuries result in a permanent disability
Incidental costs, such as mileage for traveling to medical appointments
Physical pain and suffering
Emotional distress
Loss of quality of life if you can no longer perform daily activities or participate in hobbies
Costs of repairing or replacing personal property damaged in the accident
Statute of Limitations for 18-Wheeler Accidents in New Jersey
You are likely overwhelmed after an 18-wheeler accident. But keep in mind that New Jersey law gives you only two years from the date of an accident to file a lawsuit against the at-fault party, with few exceptions. If you miss the two-year deadline, the court will likely dismiss your case, and you will be unable to pursue compensation from liable parties in civil court.
Two years may sound like a long time. However, building a strong semi-truck accident case can take months. It's crucial to contact an attorney to get started immediately. A lawyer can also file the necessary paperwork and keep track of critical deadlines so that you can focus on healing.
Talk to an Experienced Truck Accident Lawyer in Pennington, NJ Today
If you were involved in an accident with a semi-truck, you could be entitled to compensation for your injuries and other losses. You should not have to face the aftermath on your own. Let the skilled legal team at Davis, Saperstein & Salomon, P.C. help you seek the accountability and compensation you deserve. Contact our Pennington truck accident lawyers today for a free initial consultation. We can provide straightforward answers to your questions and explain your legal options.