Burn Injury Prevention Checklist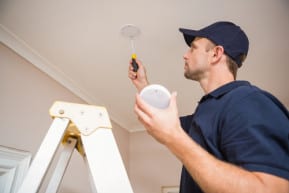 Each year, approximately 1.25 million burns are presented to emergency departments in the U.S., including New Jersey and New York. Burns lead to more than 300 children under age 19 being treated in emergency rooms and cause the deaths of two children each day in the U.S., the Centers for Disease Control and Prevention (CDC) reports.
In general, most of these burn injuries and deaths are completely avoidable. Often, accidents resulting in burns occur in the home. This is why it is important to be aware of simple safety measures that can prevent the leading causes of burns. Prevention is particularly important when it comes to the safety of children.
To prevent burn injuries, you should:
Regularly test fire alarms in every room of your home to make sure they work properly.
Discuss an escape plan with all members of your family for when a fire occurs. The plan should identify which doors and fire escapes to use as exits and a central meeting location outside of the home.
Keep children away from hot liquids and cooking appliances.
Test the temperature of food or beverages prior to serving it to a child.
When cooking, always be sure to keep the handles of the pot or pan facing inward and away from the edge of the stove in order to prevent a child from reaching up and accidentally spilling the hot contents.
Keep lit candles out of the reach of children.
In the event of a blackout, you should always be prepared by keeping plenty of flashlights and electric lanterns around the house rather than candles.
Warn your children about the dangers of lighters and matches and keep them out of reach.
Children who are old enough to understand should be taught to "stop, drop and roll" if their clothing catches on fire in order to help put out the flame and prevent burns.
Have fire extinguishers in the home and make sure all family members know where they are located and how to use them.
Contact an Experienced New Jersey / New York Burn Injury Lawyer Today
If you or someone close to you has suffered a burn injury in New Jersey or New York due to someone else's negligence, please contact Davis, Saperstein & Salomon, P.C., without delay. We can put our decades of experience in helping burn injury victims to work for you. Our initial consultations are always free. Simply call (800) LAW-2000 or contact us online today.