Train Accident Attorney in New Jersey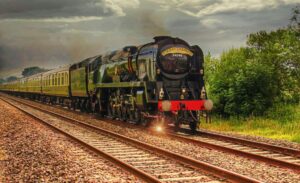 Like buses, trains are considered common carriers.  When you are under the control and care of a common carrier the operator owes you the highest duty of care to avoid harm and injury.
In fact, if a bus operator is sued in New Jersey this is what the Judge will instruct the jury before they go out to deliberate:
Ladies and gentlemen of the jury, a common carrier must exercise a high degree of care to protect its passengers from dangers that are known or reasonably foreseeable. Carriers must use the utmost caution to protect their passengers, the kind of caution that is characteristic of a very careful and prudent person. A carrier must act with the highest possible care consistent with the nature of the undertaking involved. (NJ Model Jury Charge 5.73)
This gives the passenger a distinct advantage.  As a matter of fact, the law in New Jersey protects riders injured or harmed in different circumstances. There are specific rules concerning:
Passengers with disabilities
Injuries or assaults by other passengers
Harmful acts by third parties
Sudden stops and jerks
Overcrowding
Collisions are another type of accident caused by trains. Train accidents are often devastating due to a moving train's sheer size and speed. When one of these massive machines strikes a pedestrian or another vehicle, the collision can leave victims with severe and sometimes fatal injuries. Train occupants are also prone to severe injuries in a collision or when a train derails. Train stations, platforms, and railcars can pose hazards to people on foot.
If you suffered injuries in a New Jersey train accident, you need an experienced train accident attorney from Davis, Saperstein & Salomon, P.C. With the help of our knowledgeable injury lawyers, you can protect your rights and fight for the maximum compensation you deserve.
At Davis, Saperstein & Salomon, P.C., our experienced train accident lawyers provide valuable insight and legal representation to injury victims throughout New Jersey. We're here to protect your rights and help you pursue the justice you deserve. Our decades of experience make us deeply familiar with the laws surrounding train accidents and well-equipped to handle your case.
Contact us today to speak with a New Jersey train accident lawyer in a free case review.
Train Accident Statistics You Should Know
During a single recent year, 28 highway-rail crossing incidents occurred in New Jersey alone, with nearly 18 percent of statewide incidents resulting in fatalities, according to the Federal Railroad Administration. Nationally, 2,178 crossing incidents occurred that year, resulting in 273 deaths and 763 injuries.
Many of these accidents occur along some of the most prominent railways in New Jersey, which include:
NJ Transit System – This state-owned transit system controls train and bus lines in New Jersey.
Amtrak – Amtrak receives federal funds but operates as a private rail entity in New Jersey.
PATCO – Operated by the Port Authority Transit Corporation, PATCO runs through Camden County, NJ, and nearby Philadelphia, PA.
PATH – The Port Authority Trans-Hudson (PATH) Corporation has lines connecting New York City to Hoboken, Jersey City, Harrison, and Newark.
SEPTA – The Southeastern Pennsylvania Transportation Authority (SEPTA), a state-created authority, operates trains that run through Trenton.
Common Injuries Train Accident Victims Can Suffer
Train accidents often result in severe injuries, most of which are entirely preventable. Although all accidents are different, some injuries are common in train accidents. Examples include:
Broken bones – Bones can break due to the intense force of a train collision or from getting crushed or trapped under debris or equipment, for example.
Head trauma – Brain injuries can range from concussions to severe traumatic brain injuries (TBIs).
Spinal cord injuries – Injuries to the spine can result in permanent partial or total paralysis, including paraplegia and quadriplegia/tetraplegia.
Burns – Fires or explosions on a train can cause severe burns that result in scarring and disfigurement.
Internal organ damage – Train accident victims might experience internal bleeding, organ damage, or other long-term health problems from blunt-force impacts.
Emotional trauma – Mental anguish, post-traumatic stress disorder (PTSD), anxiety, depression, and other psychological injuries are also common consequences of train accidents.
Common Causes of Train Accidents in New Jersey
Train accident causes can vary drastically from one incident to the next. Our experienced attorneys are ready to investigate the causes of the train accident that injured you to determine who could be liable for your injuries.
Below are some of the most common causes of train accidents:
Human error – Train engineers, conductors, switch operators, and other personnel sometimes make errors that result in accidents, including operating the train at an unsafe speed, failing to check signals or switches, or failing to follow safety protocols.
Negligence – Negligence on the part of the conductor or transit company could also lead to a train accident. Examples of negligence could include failure to maintain the train or its components, not correctly training personnel, or failing to address any known issues with the train.
Mechanical failure – Mechanical failure is a common cause of many train accidents. Issues like defective brakes, wheels, axles, switches, signals, or doors malfunctioning could cause an accident.
Derailment – Various factors can cause derailments, including mechanical failures, speed, and weather conditions. If a preventable issue leads to a derailment accident that leaves you injured, you could have grounds for a legal claim.
Obstacles on train tracks – Objects on the track, such as debris, fallen trees, or rocks, could cause derailments or other types of severe train accidents. Vehicles at railroad crossings can also trigger devastating collisions.
What Can We Do to Prevent Train Wrecks?
First and foremost, always practice safe driving when near train tracks. All drivers should obey posted traffic signs, slow down when approaching crossings, and avoid trying to beat trains at railroad crossings. In addition, motorists should always ensure their vehicles have enough room to safely clear train tracks before starting to cross. Pedestrians should only cross train tracks at designated crossings and avoid areas where trains might travel or stop.
Train operators are responsible for keeping passengers safe while trains are in motion and at stations. Operators should regularly inspect their equipment to ensure they adhere to all safety protocols and comply with applicable speed limits when traveling through crossings and stations.
Transit authorities should take measures to ensure all train lines are properly maintained and inspected regularly, including checking for potential hazards on tracks like debris, obstacles, or broken equipment. Any issues must be reported and repaired immediately.
Who Can Be Held Liable for My Train Accident Injuries?
Train accidents can have devastating consequences, sometimes including severe physical and emotional injuries to victims. If you suffered injuries in a New Jersey train accident, you should understand how train accident liability works before pursuing the compensation you deserve.
In New Jersey, transit agencies like NJ Transit, PATH, and other local transportation providers are legally responsible for providing a safe environment at train stations, terminals, and concourses. Train station operators must take reasonable measures to maintain a safe environment for passengers. If someone gets hurt due to a dangerous or defective condition at a train station – such as a broken step in a staircase, a hole in the concrete on a platform, or a loose railing in the station – they could file a lawsuit against the negligent property owner for damages.
Transit authorities, railroad operators, track owners, and other responsible parties have a duty to keep passengers and other road users safe while a train is underway. These entities could be held liable if their negligence causes a train accident.
A manufacturer could be liable for any injuries if faulty brakes, a malfunctioning door, or another mechanical defect causes a train accident.
Remember, each case is different, and liability isn't always straightforward. If you get hurt in a train accident, it's best to consult with our experienced train accident attorneys, who can work to hold negligent parties accountable for your losses.
Important Things to Do After a Train Crash
Here are some essential steps you should take to protect your rights following a train accident:
Call 911. The responding officers can investigate the incident and create an official report that contains valuable information.
Seek medical attention. Seek medical attention immediately. Follow your doctor's treatment plan and attend follow-up appointments. Also, keep all medical records and bills, as these can support future compensation claims.
Take pictures and document everything. Take photos of the crash scene, the condition of the train, and any visible injuries. Also, save all documents related to the accident, such as ticket stubs, police reports, witness statements, etc.
Contact an attorney. Speak with our experienced New Jersey train accident attorneys, who can explain your rights and provide legal advice on how to proceed.
File a torts claim notice. In order to preserve your right to sue against New Jersey Transit, you must comply with the New Jersey Tort CLaims Act (NJSA 59:9-2) and file a tort claims notice within ninety (90) days from the date of the occurrence. AMTRAK has different rules.
No one should suffer the aftermath of a train accident alone. Our experienced New Jersey train accident attorneys can guide you through the legal process and pursue the best possible outcome for you.
How Our Experienced New Jersey Train Accident Attorneys Can Help
Here are just a few of the ways the New Jersey personal injury lawyers at Davis, Saperstein & Salomon, P.C., can help you after a train accident:
Investigating the accident – Our attorneys can thoroughly investigate the incident to uncover possible causes, gather helpful evidence, and identify liable parties.
Calculating damages – In addition to money for your medical bills and lost wages, you can seek compensation for pain and suffering, disability, and emotional distress. Our experienced attorneys can calculate your case's total value and seek maximum compensation every step of the way.
Negotiating with insurance companies – Insurance companies often try to minimize or deny injury claims to protect their bottom lines. Our skilled lawyers are ready to negotiate forcefully with insurance companies and demand fair compensation for you.
Representation in court – If negotiations fail, our New Jersey train accident attorneys can provide aggressive legal representation at trial and fight for the best outcome possible.
Legal advice and communication – When you come to us for help, our attorneys can provide helpful legal advice throughout the process and always keep you up-to-date.
Speak With a Train Accident Lawyer Today
If you were involved in a train accident, you should speak with a seasoned New Jersey train accident lawyer as soon as possible. The team at Davis, Saperstein & Salomon, P.C., is here to listen to your story and craft intelligent legal solutions to fit your needs.
Contact us today to schedule a free consultation.