Truck Accidents Due to Speeding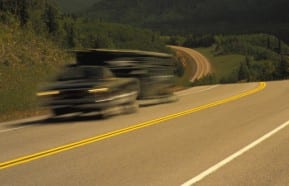 The most important determination for lawyers to make after a truck accident is figuring out which party is responsible. Factors such as speeding, disobeying traffic signals and failing to signal are important for determining fault.
In cases where a lawsuit is necessary, a New Jersey or New York truck accident lawyer will still need to prove that the other driver was at fault. Speeding or other traffic violations often help prove that a person was at fault.
At Davis, Saperstein & Salomon, P.C., we have extensive experience in investigating and litigation tractor-trailer crash cases. We can provide a free initial consultation about your case. To schedule a meeting, call us today at 1-800-LAW-2000 or use our online form.
How Our Lawyers Can Establish the Cause of Your Truck Crash
In many cases, traffic cameras and E-ZPass records can be used to establish that a truck driver was speeding. As is the case with airline crashes, most commercial trucks have "black box recorders" that record information about time, distance and speed. These boxes can be quite useful in reconstructing the cause of a truck crash.
Improper loading can also be a major issue leading to liability.
When you load your car with groceries, you probably don't take into account the weight of each bag and its location in your car. Loading a truck is different. The load must be balanced and secured. Each axle can only support a certain amount of weight. The load must be balanced from front to back and from left to right. Failure to load a truck in a safe way can lead to a trailer tipping over or jackknifing.
When a truck is loaded, the cargo must be properly secured. In some cases, failure to properly secure cargo can lead to accidents and injuries. Improperly secured goods can shift during transport. Shifting cargo can lead to a weight imbalance that causes an accident. In other cases, it can lead to spills, including spills of toxic materials.
While most people picture an enclosed trailer when they think of the trucks that normally ride on New Jersey roads, there are in fact many types. Some trucks carry cargo, especially raw materials, on open trailers. Common examples of goods transported on open trailers are logs, concrete road barriers, large machines, pipes, glass, and livestock. Whenever these goods spill out onto the roadway, there is a serious risk of an accident.
Get Help from an Experienced Truck Accident Lawyer Today
The truck accident lawyers at Davis, Saperstein & Salomon, P.C., will investigate all available evidence to determine which parties are responsible for your crash. Truck drivers and trucking companies have to follow an incredibly large number of laws and regulations. It takes an experienced lawyer to figure out every possible law that a truck driver may have broken.
Our litigation team will scour the records of the driver and the trucking company and look for any violations which can help place the driver or company at fault. Our goal is to get you the largest recovery that the law allows in your case. We serve clients throughout New Jersey and New York. Call us today at 1-800-LAW-2000 or contact us online to arrange a free initial consultation and learn more about how we can help you.