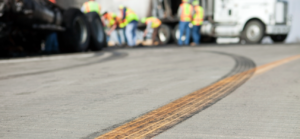 A client was driving along I-80W in Totowa, New Jersey, when she was rear-ended by a tractor-trailer carrying a 43-ton load. The client immediately lost consciousness upon impact. After Davis, Saperstein & Salomon, P.C. partners Garry R. Salomon and Adam B. Lederman proved that the truck driver was driving negligently, our client was awarded a $946,519 settlement.
When the client regained consciousness, she awoke to excruciating pain in her neck, shoulders, and lower back. Her neck pain radiated into her right arm and her lower back pain radiated into her right leg. MRIs revealed that she had disc herniation in her cervical spine at C5-C6 and C6-C7, and herniation in her lumbar spine at L3-L4 and L4-L5. To treat her lower back, she underwent a surgical procedure that resected the herniated disc fragments in L3-L4 and L4-L5. She was later required to undergo an anterior cervical discectomy to treat her cervical spine. She also received several cervical epidural injections and lumbar epidural injections, as well as acupuncture treatments and months of physical therapy.
Despite her numerous treatments, the client continues to suffer pain in her neck, back, and shoulders. Once the active owner of a local nail salon, the woman is no longer able to work and manage her salon. She loved knitting, reading, and traveling, but is no longer able to perform any of these activities. Her children encourage her to seek treatment for her depression, which arose during the aftermath of this accident.
The woman's life was permanently altered by the truck driver's negligence, but Davis, Saperstein & Salomon, P.C. partners Garry R. Salomon and Adam B. Lederman were able to ensure that she received proper compensation, and secured her a $946,519 settlement.
Call us now for a free and confidential case evaluation. We are also available 24/7 online at our website, www.dsslaw.com.
Medical Glossary
Disc herniation: An extension of disc tissue past the edge of the vertebrae.
Cervical spine: The first seven vertebrae in the spine.
Lumbar spine: The lower back, containing five vertebrae.
Anterior cervical discectomy: A surgical procedure that removes the disc and the disc material pressing on the cervical spine.
Resection: The surgical removal of a tissue, organ, or other structure.
Epidural injection: The injection of anti-inflammatory medicine into the epidural space in the spine.