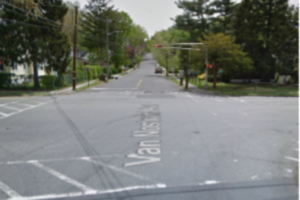 A pedestrian was hit by a bus as she crossed an intersection in Edgewater, New Jersey. Davis, Saperstein & Salomon, P.C. Partner Samuel L. Davis proved that the bus driver had been operating his vehicle negligently, securing her family a $3.5 million settlement for her injuries, pain, and suffering.
The woman was crossing the intersection of Van Nostrand Avenue and Broad Avenue when a minibus who didn't see her crossing, began making a right turn, hitting our client. The bus driver, unaware that he had hit her, continued driving and dragged her forward fourteen feet, before a witness finally stopped him. The woman tragically died within the next five minutes. Her official cause of death was compressive blunt force injuries to her torso. She also suffered lacerations on her abdomen, back, and scalp, as well as abrasions, contusions, and avulsions of her arms and legs.
Davis, Saperstein & Salomon, P.C. hired a medical specialist to serve as an expert witness. The expert authored a narrative report that described our client's pain and suffering. The expert found that the woman felt both the initial impact of the bus knocking her to the ground and the crushing injury when the front and back wheels rolled over her torso. He opined that she was awake and alert during the accident and experienced indescribable fear, terror, and pre-morbid realization of her impending death.
Davis, Saperstein & Salomon, P.C. Partner Samuel L. Davis also hired a vocational expert to determine the extent of financial loss suffered by our client. He determined that the successful businessowner's family had suffered a total loss of earnings of over a million dollars.
With the support of these experts, Davis, Saperstein & Salomon, P.C. sued the bus company in the Bergen County Superior Court.
Settlements are often limited by the total available insurance coverage. Insurance company adjusters and their lawyers often defend cases by claiming that a client was negligent and could have avoided being injured by arguing comparative negligence on the part of an injured client; or that their pain and suffering was caused by pre-existing medical conditions or prior injuries. Despite those defenses, the Davis, Saperstein & Salomon, PC lawyers won their client's injury claim. Each client's case is unique. Results may differ because of different facts, circumstances and available insurance coverage.
Call us now for a free and confidential case evaluation. We are also available 24/7 online at our website, www.dsslaw.com.
Medical Glossary
Abrasion: A rub or wearing off of the skin; usually caused by a scrape or brush burn.
Avulsion: The forcible tearing away of a body part.
Laceration: A deep cut in the skin.