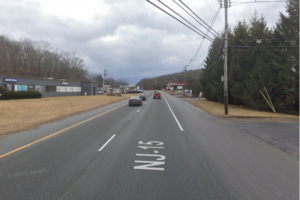 While passing through the poorly lit parking lot of his apartment complex on Route 15 South in Lake Hopatcong, New Jersey, a man suffered injuries when he slipped and fell on a patch of ice. He was walking towards the dumpster when he slipped on the icy surface and fell onto the right side of his body. Davis, Saperstein and Salomon, P.C. Partner Garry R. Salomon filed suit in the New Jersey Superior Court, Morris County, proved that the apartment complex's management was negligent in failing to maintain and operate a safe premises for their tenants, and won the client a $712,500 settlement.
He was taken by ambulance to Dover General Hospital in Dover, New Jersey, where an X-Ray showed a fractured hip and femur. To treat the fractures, he underwent an intramedullary gamma nail procedure with a sliding hip screw. He was later transferred to a rehabilitation center, where he completed regular occupational and physical therapy sessions to aid in his recovery.
Davis, Saperstein and Salomon, P.C hired medical experts to author narrative reports proving the permanent nature of the client's injuries. To prove proximate cause, Partner Garry R. Salomon hired an engineering expert, who found that the combination of the road's slope, poor lighting, and faulty snow removal, resulted in melting snow refreezing into an icy patch that caused the man's fall. He opined that the client's accident would have been avoided if the Defendant had efficiently followed safety practices and ensured proper snow removal, salting, and sufficient parking lot lighting.
The experts' reports helped Davis, Saperstein and Salomon, P.C. Partner Garry R. Salomon win the client a settlement for his injuries, pain, and suffering.
Settlements are often limited by the total available insurance coverage. Insurance company adjusters and their lawyers often defend cases by claiming that a client was negligent and could have avoided being injured by arguing comparative negligence on the part of an injured client; or that their pain and suffering was caused by pre-existing medical conditions or prior injuries. Despite those defenses, the Davis, Saperstein & Salomon, PC lawyers won their client's injury claim. Each client's case is unique. Results may differ because of different facts, circumstances and available insurance coverage.
Call us now for a free and confidential case evaluation. We are also available 24/7 online at our website, www.dsslaw.com.  
Medical Glossary:
Fracture: A fracture is a broken bone that occurs when there is a crack or break in the hard outer shell of a bone. Fractures can happen due to accidents, falls, or excessive force, and they can be classified as simple (a clean break) or compound (where the bone pierces through the skin).
Femur: The femur is the longest and strongest bone in the human body, located in the thigh. It connects the hip bone to the knee joint and plays a crucial role in supporting the body's weight and allowing movement.
Intramedullary Gamma Nail Procedure: The intramedullary gamma nail procedure is a surgical technique used to treat fractures of the femur. In this procedure, a long metal nail is inserted into the center of the bone to stabilize and support the fractured area, allowing it to heal properly.