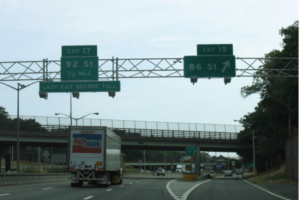 In Brooklyn, New York, a mechanic was completing a service call when he was rear-ended by a box truck. The mechanic hired Davis, Saperstein & Salomon, P.C. partner Marc C. Saperstein to represent him in his lawsuit against the truck driver. After personal injury attorney Marc C. Saperstein proved that the truck driver had been reckless and careless. He secured our client a $530,000 settlement. 
The mechanic was traveling down the exit ramp from the Brooklyn-Queens Expressway (BQE) to 86th Street. He had been stopped at a red traffic light for about two seconds, when he was rear-ended by the commercially owned box truck. The truck driver claimed that he lost power and was unable to steer or brake. Lawyer Marc Saperstein hired an accident reconstructionist expert, who confirmed that the truck likely experienced mechanical failure. As such, the truck company—not the driver—was determined to be responsible for this accident. 
The accident aggravated our client's pre-existing cervical and lumbar injuries, and caused a post-traumatic synovial cyst at the L4-L5 facet joint. Personal injury cases involving prior injuries that were aggravated by an accident may be harder to win because it's often difficult to prove that the aggravation was directly caused by the accident. 
The client also suffered tears in his anterior and posterior tibia-fibular ligaments and developed bilateral shoulder impingement and bilateral elbow tendonitis. The client underwent a series of pain management treatments, including bilateral lumbar medial branch nerve blocks, lumbar medial branch nerve radiofrequency ablation under fluoroscopic guidance level, and trigger point injections. He also underwent months of physical therapy, which included chiropractic treatment. 
The firm hired medical practitioners and psychologists to serve as expert witnesses to examine the client and author reports proving the permanency of our client's condition. Their reports proved our client's need for financial compensation, specifically for her medical bills and pain and suffering. Despite various attempts at treatment, our client continues to suffer chronic back pain. Partner Marc C. Saperstein hired an economics expert to assess the extent of financial damages in the form of lost income.
Davis, Saperstein & Salomon, P.C. partner Marc Saperstein sued the truck company in the New Jersey Superior Court and proved that they had failed to maintain in their truck in proper working condition. He ensured that our client was properly compensated in the form of a $530,000 settlement. 
 Settlements are often limited by the total available insurance coverage. Insurance company adjusters and their lawyers often defend cases by claiming that a client was negligent and could have avoided being injured by arguing comparative negligence on the part of an injured client; or that their pain and suffering was caused by pre-existing medical conditions or prior injuries. Despite those defenses, the Davis, Saperstein & Salomon, PC lawyers won their client's injury claim. Each client's case is unique. Results may differ because of different facts, circumstances and available insurance coverage.   
Call us now for a free and confidential case evaluation. We are also available 24/7 online at our website, www.dsslaw.com. 
Medical Glossary
Cervical Spine: The first seven vertebrae in the spine.
Lumbar Spine: The lower back, containing five vertebrae.
Synovial Cyst: Cystic masses that most commonly arise in the lumbar region.
Partial-Thickness Tear: A tear that only partly cuts through a ligament.
Shoulder Impingement: A condition in which a tendon rubs against the shoulder blade. 
Elbow Tendonitis: A condition in which inflammation arises between the tendon and the elbow.
Medial Branch Nerve Block: A type of spinal injection that is done to temporarily block pain signals emitting from the medial nerves. 
Radiofrequency Ablation: A procedure that uses electrical currents produced by radio waves to stop the medial branch nerve from transmitting pain signals from the facet joint to the brain.
Trigger Point Injection: The injection of a local anesthetic, and possibly a corticosteroid, into a trigger point location. A trigger point is where knots of muscle form.