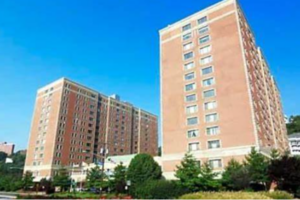 In Edgewater, New Jersey, an 85-year-old pedestrian was hit by a car while walking on River Road through her apartment complex's parking lot. Davis, Saperstein and Salomon, P.C. Partner Marc C. Saperstein proved that the driver had been driving recklessly, and that the complex's owners were negligent in failing to put basic safety features around the lot. He sued them in the Superior Court of New Jersey, Bergen County, and secured our client a $1,910,000 settlement.
The client was taken by ambulance to Hackensack Meridian Medical Center in Hackensack, New Jersey. She suffered injuries to multiple parts of her body, including her leg and hip. She was diagnosed with a closed fracture of the lateral malleolus in her right ankle, open tibia and fibula fractures in her left leg, an intertrochanteric fracture in her left hip, and soft tissue injury to her left hand and right leg. To treat her injuries, our client underwent an open reduction and internal fixation (ORIF) for her tibia fracture, a closed reduction and external fixation of the hip fracture, debridement and irrigation of her wounds, and ultimately, an above-the-knee leg amputation. The elderly woman also transferred into a nursing home and physical therapy to improve her condition.
Davis, Saperstein and Salomon, P.C. hired medical experts to author narrative reports proving the permanent nature of our client's injuries. The reports proved the woman's entitlement to financial compensation for her medical bills, nursing home bills, and pain and suffering. Partner Marc C. Saperstein also hired an engineering/architectural analyst to determine the liable party responsible for the client's injury. The expert opined that the management company of the building was negligent in failing to create a safe parking lot for tenants and pedestrians. The expert referred to standards given by the Institute of Traffic Engineers to conclude that management failed to put basic pedestrian safety features such as stop signs, speed bumps, and crosswalks, around the lot. The experts' proved the Defendant responsible, helping Partner Marc C. Saperstein to win the client a settlement for her injuries, pain and suffering.
Settlements are often limited by the total available insurance coverage. Insurance company adjusters and their lawyers often defend cases by claiming that a client was negligent and could have avoided being injured by arguing comparative negligence on the part of an injured client; or that their pain and suffering was caused by pre-existing medical conditions or prior injuries. Despite those defenses, the Davis, Saperstein & Salomon, PC lawyers won their client's injury claim. Each client's case is unique. Results may differ because of different facts, circumstances and available insurance coverage.    
Call us now for a free and confidential case evaluation. We are also available 24/7 online at our website, www.dsslaw.com. 
Medical Glossary:
Amputated: The removal of a body part from and including, an arm or leg, because of an injury, or intentionally by surgery. Common body parts amputated are the arm, hand, fingers, leg, foot and toes. Leg amputations are usually referred to as either being an above the knee amputation or below the knee amputation.
Closed Reduction: a procedure to realign bones to their rightful place after a break or fracture without exterior means or means of surgery.
Debridement: A procedure done to remove infected/dead tissue or debris from a wound.
Fibula: The fibula consists of the outer and usually smaller of the two bones between the knee and ankle. The fibula is joined to the top of the tibia by ligaments.
Internal Fixation: A surgical procedure that stabilizes and joins the ends of broken bones by mechanical devices.
Irrigation: the washing of a body cavity or wound by a stream of water or other fluid
Intertrochanteric Fracture: A type of hip fracture common in elderly people.
Lateral Malleolus: bony prominence on the outer side of the ankle.
Open Reduction: An operation where orthopedic surgeons reposition and realign the pieces of a broken bone
Tibia: the inner and typically larger of the two bones between the knee and ankle