Colonia Workers' Comp Attorney
Have you been injured on the job or developed an illness you believe is connected to your employment? If so, you may be entitled to receive workers' compensation benefits, which can provide payment for medical expenses and partial wage replacement benefits to help you recover from the losses you've sustained.
To learn about the full benefits you can claim for your workplace injury, turn to a Colonia workers' compensation lawyer at Davis, Saperstein & Salomon, P.C. Since 1981, we have been representing workers around Edison and across New Jersey to collect the benefits they are entitled to because of a workplace injury. Our firm can help you pursue workers' compensation claims and appeals when your employer has failed to provide the worker's comp benefits you are entitled to by law.
If you have suffered a work injury or occupational illness and are having trouble getting the workers' compensation benefits you need for your recovery, talk to an experienced and capable workers' compensation attorney at our firm. We can review your options in a free case review and discuss how our firm can advocate for your rights and the benefits you deserve.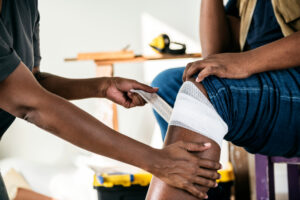 New Jersey Workers' Compensation Laws
In New Jersey, the law entitles an employee who sustains a work-related injury or illness to claim certain financial and medical benefits from their employer. Employers are typically required by law to carry insurance to pay these benefits. An injured employee is entitled to workers' compensation benefits regardless of who bears fault for the worker's injury or illness.
However, in exchange for benefits for a work injury or occupational illness, the workers' compensation law bars an employee from filing a personal injury suit against their employer.
Notice of a work injury or occupational illness must be provided to an employer within 14 days of the date of the injury or discovery of the illness. If an employee must pursue a claim to recover workers' comp benefits, it must be filed with the state within two years of the injury date.