Catastrophic Injuries in Truck Accidents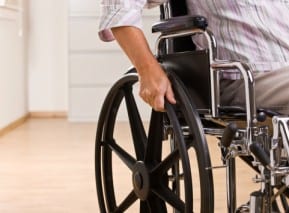 New Jersey trucking accidents often result in severe, life-altering injuries. When an 80,000-pound truck collides with a passenger car, the chances of escaping with minor scrapes and bruises are slim – and victims are often lucky simply to survive. However, the effects of a catastrophic injury can be devastating, causing massive medical bills, lost wages, and financial instability. When such injuries are the result of a negligent truck driver or trucking company, victims deserve justice – and compensation for their injuries.
Since 1981 the tractor trailer accident attorneys and staff of Davis, Saperstein & Salomon, P.C., have dedicated their legal careers to helping people who were injured as a result of the carelessness of others. Call our New Jersey truck accident lawyers today at 1-800-LAW-2000 or use our online form to receive a free initial consultation.
Catastrophic Crashes and Injuries
At Davis, Saperstein & Salomon, P.C., we have worked with many truck accident victims and we've seen firsthand the severity of the injuries involved in these accidents. Large tractor trailers and relatively lightweight automobiles have what is described as structural incompatibility. When cars and 18 wheelers collide, large trucks often cause catastrophic damage to the automobiles, crushing the car's passenger compartment so there isn't enough space for the car occupants to escape serious or fatal injuries. Catastrophic injuries are generally described as those which have permanent, disabling effects, and can include:
Spinal cord injury – trauma to the spinal cord can result in severe nerve damage or paralysis. Victims may be left with partial or no use of their limbs, and may require breathing assistance as well as wheelchair and 24-hour caregiver aid.
Traumatic brain injury – a brain injury can occur with any major trauma to the skull. Injuries to the brain can affect speech and motor skills, as well as memory and emotional functions. Some effects, such as speech, may be recovered with rehabilitation, but others may never return.
Serious back and neck injuries – of such severity that the victim requires a walking device or other aids to perform daily tasks.
Amputations – serious truck injuries can cause crushed limbs resulting in the amputation of arms or legs. Victims may need prosthetic limbs and therapy in order to recover mobility.
Severe burns – fires caused by trucking accidents or explosions can result in severe burns. Burn damage can require extensive surgeries – and even after multiple procedures, such as skin grafting, the victim may be left with severe scarring and painful side effects.
The tractor trailer accident attorneys of Davis, Saperstein & Salomon, P.C., have three decades of experience in representing persons who have been injured in trucking collisions throughout the State of New Jersey. We understand that a catastrophic injury can have a permanent impact on the lives of both you and your family. You may need substantial compensation to assist with care, rehabilitation, and other costs – and you need an experienced legal team on your side when you are dealing with a large trucking company.
The trucking company's insurance investigators will often arrive at an accident scene together with their pre-retained lawyers as quickly as the police and emergency personnel, collecting evidence to help their case against any injury claim. An experienced truck accident lawyer from the New Jersey office Davis, Saperstein & Salomon, P.C., can deal directly with the insurance carrier to ensure that your rights are protected. We consult with crash reconstruction experts and medical personnel to build an effective and accurate picture of what went wrong and why. Our experience in presenting trucking accident cases has helped recover damages for our clients that help pay for medical care and rebuild their lives – and those of their families.
Experienced New Jersey Truck Accident Assistance
The catastrophic injury lawyers at Davis, Saperstein & Salomon, P.C., have been helping people who have been injured in New Jersey accidents since 1981. We have handled thousands of accident injury claims, obtaining excellent results for our clients in many instances. Each case and the results vary, so we invite you to contact an accident lawyer at our New Jersey or New York offices to discuss the specifics of your situation. If we take your case, you can be assured we will use all the resources of our law firm to develop a strong argument for money damages and other compensation for you.
To speak with a personal injury lawyer with many years of experience, contact our New Jersey or New York offices at 1-800-LAW-2000. We do not charge attorney's fees unless we are successful in your case and our initial consultations are free.
No Fee if No Recovery
Home and Hospital Consultations Available
New Jersey personal injury lawyers helping car accident victims and their families since 1981 in Newark, Jersey City, Paterson, Elizabeth, Edison, Toms River, Trenton, Clifton, Camden, Brick Township, Woodbridge Township, Bergen Co., Middlesex Co., Somerset Co., Warren Co., Sussex Co., Monmouth Co., Mercer Co., Ocean Co., Hudson Co., Passaic Co., Essex Co., Union Co., Morris Co., Teaneck, Fort Lee, Paramus, Hackensack, Hoboken, Secaucus, Englewood, Mahwah, Bergenfield, Union City, North Bergen, Ridgewood, Bayonne, Ridgefield, Belleville, Alpine, New Milford and Atlantic City. Also in Manhattan, Queens, Brooklyn, Kings County, Richmond County and New York City, in New York.