Trucking Company Negligence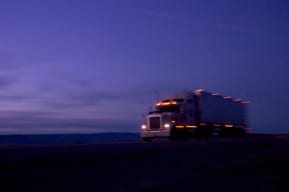 If you have been involved in a New Jersey or New York truck accident, you may think that you might be limited to suing the driver that hit you. Often, this isn't the case. In fact, many tractor-trailer wrecks are the fault of a negligent trucking company. Improper maintenance, negligent hiring and overworking of employees are three common reasons a trucking company can be held responsible for your truck accident injury.
If a trucking company's actions or inactions were a cause of your accident, you may be able to sue. Learn more about your legal rights and options by calling Davis, Saperstein & Salomon, P.C., at 1-800-LAW-2000 completing our online form. We would be glad provide you with a free consultation about your case.
Improper Maintenance
Trucks have thousands of moving parts that need maintenance and, in some cases, repair. To save money, trucking companies may skip scheduled or required maintenance. Unfortunately, a shipping company may send a damaged or unsafe vehicle out onto the road.
Shipping companies and their mechanics know that they should keep all of their trucks in safe condition. The attorneys at Davis, Saperstein & Salomon, P.C., will work to make trucking companies pay for the consequences arising out of improper cost-cutting moves that expose others to danger.
Negligent Hiring
Trucking companies that send drivers onto our roads are responsible for selecting and hiring qualified, responsible drivers. Companies may sometimes be held responsible if they hire a driver with a pattern of previous traffic violations. Companies can also be held responsible for sending a driver without the proper licenses and qualifications out on the road.
There are many rules and regulations in place to make sure that only qualified drivers are on our highways. The federal government requires commercial drivers to meet certain standards. Also, each state issues its own commercial driver's license (CDL). Truck drivers must possess a CDL to drive in New York or New Jersey.
If a trucking company has put an unqualified driver on the road, we will seek to hold them liable for your injuries.
Negligent hiring is also an issue if drugs or alcohol were a factor in your truck accident. Hiring a driver who has had previous violations for drunk or intoxicated driving can open up a trucking company to liability. The law firm of Davis, Saperstein & Salomon, P.C., will work to hold a negligent trucking company responsible.
Overworked Drivers
Federal laws limit the amount of time that truck drivers can work. These laws are meant to ensure that fatigued truck drivers are not on the road. They also require drivers to keep a logbook of their hours.
Some unscrupulous trucking companies give their drivers deadlines that cannot be met without violating these laws. Drivers may falsify information so that requirements are met.
Our firm will use all evidence available, including E-ZPass records and other traffic information, to show whether a driver falsified his or her logs. Note: By law, the trucking company only needs to keep these logs for a maximum of six months and one week. This is why it is important to consult with an attorney and move quickly to preserve evidence after a truck crash.
Loading and Unloading Doctrine
The loading and unloading doctrine is a special law in New Jersey and New York that requires all truck insurance policies to cover injuries that occur due to negligence in the loading or unloading of a truck.
So, when a trucking company is found to be responsible for your injuries, they can than sue the insurer of the truck to cover their costs. While this requirement may not make much difference to a driver or warehouse worker who is hurt while unloading a truck, it can have a large effect on how an injury case is handled and which parties are involved.
If you are injured due to negligence in the process of loading or unloading a tractor trailer, your lawyer will work hard to focus on maximizing your recovery.
Contact an Experienced Truck Accident Lawyer Serving New York and New Jersey
When a trucking company is directly responsible for causing a truck collision, the lawyers of Davis, Saperstein & Salomon, P.C., will work hard to bring the trucking company to justice and strive to get you the money you deserve. Call us today at 1-800-LAW-2000 or turn in our online form to learn how we can assist you. We provide free initial consultations and serve truck accident victims and their families throughout New Jersey and New York.