Common Workers' Comp Injuries
New Jersey Workplace Injury Attorneys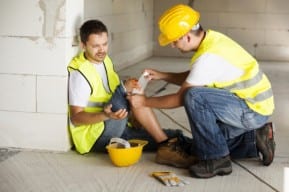 Injuries can occur in any occupation. However, the U.S. Bureau of Labor Statistics reports that the occupations with the highest rates of incidents are:
Nurses;
Nursing aides, orderlies and attendants;
Light or delivery service truck drivers;
Laborers and freight, stock and material movers;
Janitors and cleaners;
Office workers;
Telephone and cable linemen;
DPW and municipal workers;
Police and law enforcement;
Teachers;
General laborers;
Landscapers and tree surgeons;
Stock clerks.
Light or delivery service truck drivers and registered nurses saw the highest increase in accident rates in 2009 along with landscapers, groundskeepers and restaurant cooks, OSHA reports.
If you are a New Jersey worker who has suffered a work-related injury, contact us today for a free initial consultation by calling 1-800-LAW-2000 or using our online form.
Common New Jersey workplace injuries include:
Sprains, strains and tears: These injuries can result from overexertion or abrupt actions, such as bending, twisting, reaching or slipping and falling. Warehouse workers or material movers frequently suffer sprains, strains and tears in the back, shoulders or a lower extremity, such as the knee, ankle or shoulder.
Back and spinal cord injuries: These injuries arise in muscles, ligaments, vertebrae and discs. They can be caused by repeated overexertion or a sudden event. A tractor-trailer driver, for instance, may suffer a back injury after years of being on the road, while a nursing aide may injure her back while helping to lift a patient. Construction accidents and scaffolding accidents, including falls, often lead to spinal cord damage.
Knee fractures, meniscus or ligament tear.
Repetitive motion: leading to carpal tunnel syndrome.
Crush injuries: There injuries commonly occur to a workers foot or hand.
Fractures: These accidents commonly occur among those who work around equipment or who move heavy materials, such as freight, stock and material movers or construction laborers.
Amputations: Arms, hands, fingers, legs, feet and toes may get caught in running equipment or machinery. These injuries may occur when working in an industrial plant or around equipment with sharp blades, such as in landscaping or agricultural jobs.
Burn injuries: These injuries occur in fires, explosions, electrocutions or bodily contact with hazardous chemicals. Industrial plant workers, construction laborers and restaurant cooks are frequently exposed to these injuries.
Traumatic brain injury (TBI): These injuries can happen when a worker suffers a blow to the head, a slip and fall or an electrical shock.
Toxic chemical exposure: Injuries may be suffered by inhaling hazardous chemicals through the lungs, absorbing it through the skin or ingesting it through the mouth. Toxic chemicals can cause allergies, poisoning or cancer.
Vision and hearing loss: Sudden exposure to a loud noise or repeated exposure to noises may rob a person of his or her hearing, while an explosion or object striking one's eye could cause vision loss.
Post-traumatic stress disorder (PTSD): A traumatic event, such as an assault, explosion or terrifying accident, can trigger this disorder. Workers in dangerous or high-stress environments, such as construction laborers or industrial plant workers, face a high risk of suffering PTSD.
Reflex Sympathetic Dystrophy (RSD): is a chronic pain syndrome that covers an area or a limb. This usually occurs following a trauma to the limb that results in nerve sensitization.
Deaths: Fires, explosions, assaults and car or truck accidents are some of the leading causes of workplace fatalities.
Contact Our New Jersey Workplace Injury Lawyers Today
If you have suffered a workplace injury, contact a New Jersey workers' compensation lawyer at Davis, Saperstein & Salomon, P.C., today.
Our experienced, skilled and dedicated workers' compensation attorneys have secured compensation for thousands of injured employees and their families throughout New Jersey.
We have a record of securing more than $350 million in settlements and verdicts for our clients. We can help you to receive the medical benefits you deserve as well as disability benefits for a temporary total, permanent partial or permanent total disability. In some cases, the survivors of a deceased worker may be entitled to death benefits and funeral expenses.
Call us toll-free at 1-800-LAW-2000 or use our online form for a free initial consultation, including home and hospital consultations. We can discuss whether you should pursue a workers' compensation claim or a third-party personal injury lawsuit or both. We charge no fee unless there is a recovery for you and your family
Home and Hospital Consultations Available – No Fee if No Recovery