Workers' Compensation for Truck Accidents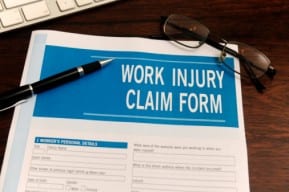 People are often under the misconception that truck accidents are always the fault of the truck driver. In reality, many accidents are caused by other drivers who are uneducated about sharing the road with trucks and other large vehicles.
Car drivers cut trucks off, tailgate them, and travel in blind spots. Many drivers fail to give trucks the room needed to make turns or allow the truck to build up speed so it can safely get up a hill.
Unfortunately, the driving public often sees trucks as a nuisance instead of recognizing that trucks are the backbone of our economy and essential for our modern way of life.
If you are a truck driver who has been injured on the roads of New Jersey or New York, or if you work for a trucking company based out of these states, call the law firm of Davis, Saperstein & Salomon, P.C., today at 1-800-LAW-2000 or complete our online form. We can review your case and explore your options, including filing a workers' compensation claims.
New Jersey Workers' Compensation for Injured Truck Drivers
New Jersey truck drivers typically fall under the state's workers' compensation scheme. This means that if you are injured while driving a truck in New Jersey, or while driving a truck based out of New Jersey, you will usually be allowed to recover benefits even if you caused or contributed fault to the accident.
Benefits differ based on the scope and duration of your injuries. The workers' compensation scheme is a compromise between employers and labor. There are advantages and disadvantages for both sides. As a trade-off for payments, irrespective of fault, workers usually give up the right to bring a traditional lawsuit. However, if the accident was caused by another, you can sue them through what is called a third-party lawsuit.
If you have been hurt in a New Jersey trucking accident, you must notify your employer of your injuries within 14 days, although in some cases you may have up to 90 days to report the injury.
All New Jersey work injury claims for adults must be filed within two years. Contact a workers' compensation lawyer at the firm of Davis, Saperstein & Salomon, P.C., for help with filing your claim as soon as possible. You can also see our Workers' Compensation section.
Workers' compensation applies to many types of injuries. The most obvious injuries come from accidents, spills and burns. Fortunately, other injuries are covered as well.
Many work-related injuries occur over the course of years due to the strain of a particular type of work. These types of injuries are known as repetitive-stress injuries or occupational diseases. Truck drivers often suffer from back and spinal cord issues caused by driving all day. If you have suffered an occupational disease, you have two years to file a claim, starting from the time you knew of the nature of the disability and it's relation to your employment.
Certain workers are not covered under workers' compensation laws. The Longshore and Harbor Workers' Compensation Act (LHWCA), for instance, governs injuries by those who load and unload vessels and ships. If you are unsure of whether you would be covered under the LHWCA or normal workers' compensation laws, contact Davis, Saperstein & Salomon, P.C., to learn more.
New York Workers' Compensation for Injured Truck Drivers
Truck drivers who have been injured in New York are eligible for New York's workers' compensation plan. This system is largely similar to the one in New Jersey, but there are some notable differences.
Truck drivers injured in New York will have up to 30 days to give notice of injury to their employer. Those drivers who suffer from long-term occupational injuries have two years to file a claim, starting from the later of the date of disability or from the date the driver knew or should have known that the disease was due to the nature of the employment.
In New York, there are special rules for determining if a truck driver is an independent contractor. Unless they purchased their own insurance policy, independent contractors are generally not covered by workers' compensation insurance. A driver will only be found to be an independent contractor if that driver is transporting goods under their own bill of lading and under their own Department of Transportation number.
Davis, Saperstein & Salomon, P.C., works with injured New York truck drivers on securing compensation for their injuries. Contact us today to learn how we can assist you.
Loading-and-Unloading Doctrine in Truck Injury Cases
Truck drivers are not the only people who may be subject to workers' compensation laws. Often, warehouse workers are hurt during the process of loading and unloading a tractor trailer. Accidents occur due to faulty packaging and load-shifting.
In these cases, the loading-and-unloading doctrine leads to complicated cases. Shipping companies, trucking companies, truck owners and insurance companies will battle to prove that they are not responsible.
If you have been hurt while unloading a truck, the lawyers of Davis, Saperstein & Salomon, P.C., will help you decide whether it is appropriate to file a lawsuit or a workers' compensation claim based on multiple factors.
While workers' compensation laws bar lawsuits against a truck driver's employer, they do not bar lawsuits against a company owning a warehouse. Since truck drivers frequently help load and unload trucks, this means that drivers injured in a warehouse may be able to sue the owner of that warehouse instead of – or in addition to – pursuing a workers' compensation claim.
Our Workers' Compensation Lawyers Help Injured Truck Drivers in New Jersey and New York
If you or a loved one has been injured as a truck driver in New Jersey or New York, contact the lawyers of Davis, Saperstein & Salomon, P.C. We can review the facts of your case and discuss all possible options for obtaining compensation, including pursuing a worker' compensation claim or third-party lawsuit. Simply call us today at 1-800-LAW-2000 or fill out our online form to schedule a free initial consultation.