Occupational Injury and Illness in New Jersey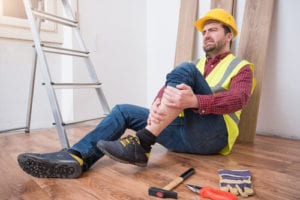 If you are suffering from a job-related injury or illness, you're not alone. In fact, the Workers' Compensation Division of the New Jersey Department of Labor and Workforce Development received reports of 148,791 on-the-job accidents and 34,810 new workers' compensation claims during one recent year.
The Liberty Mutual Workplace Safety Index provides a good indication of the most common causes of workplace injuries in New Jersey and across the country. The Index says the top 10 injury causes are:
Overexertion (excessive lifting, pushing, pulling, holding, carrying or throwing)
Falls on same level (slipping on wet floors or tripping over equipment)
Bodily reaction (bending, climbing, reaching, standing, sitting or slipping without falling)
Falls to lower level (from a ladder or scaffolding)
Struck by object (tools falling from above
Struck against object (walking into a door)
Repetitive motion (subjecting the body to repeated stress or strain)
Highway incident (transportation)
Caught in/compressed by (being caught in or compressed by equipment or objects)
Assault/violent act (workplace bullying).
Workplace illness can include a wide variety of conditions, including:

Respiratory diseases (lung cancer, mesothelioma or COPD)
Carpal tunnel syndrome
Fibromyalgia
Radiation sickness or illness from toxic chemical exposure
Complex regional pain syndrome
Post-traumatic stress disorder (PTSD).
Even though all workplaces involve some risk, the U.S. Bureau of Labor Statistics states that industries with the highest non-fatal injuries and illnesses in New Jersey in a recent year were:

Agriculture, forestry, fishing and hunting
Education and health services
Manufacturing
Public administration
Retail trades
Service industries
Wholesale trades.
Clearly, any kind of work situation can result in a job-related accident or occupational disease that significantly disrupts the worker's life and ability to work for a living.
Our New Jersey Workers' Compensation Lawyers Are Available to Help You
If you are a New Jersey worker who has suffered an occupational injury or illness, the workers' compensation lawyers of Davis, Saperstein & Salomon, P.C., can examine your case and help you to determine available compensation for you and your family.
We know how to investigate workplace accidents and injuries, and we consult with highly qualified experts who can help us to establish your case and seek all funds you are entitled to receive through a workers' compensation claim and/or third-party liability claim.
Contact us today by calling (800) LAW-2000 or completing our online form. We can provide a free initial consultation, including meeting in your home or hospital room if necessary. We charge no fee until there is a recovery for you and your family.
Sources