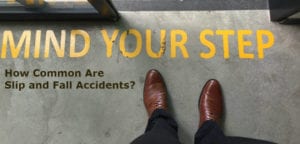 A slip and fall can happen at any time of the year in New Jersey and on many different types of surfaces. These are very common incidents.
As the National Floor Safety Institute (NFSI) reports, slips and falls are responsible for about one million visits to the emergency room each year in the U.S. and represent around 12 percent of all reported fall injuries.
At Davis, Saperstein & Salomon, P.C., our dedicated premises liability lawyers regularly handle slip and fall cases in New Jersey and strive to ensure that plaintiffs are fully compensated for their injuries.
Here, we look at four reasons why slip and falls are so common in our area and explain what goes into filing a slip and fall injury claim.
Why Are Slip and Falls So Common?
Certain conditions increase the likelihood of a slip and fall. In many cases, negligent property owners allow those dangerous conditions to exist and fail to warn visitors about the risks they face.
Four conditions that commonly cause slip and falls in New Jersey are:
Icy Walkways, Driveways and Stairs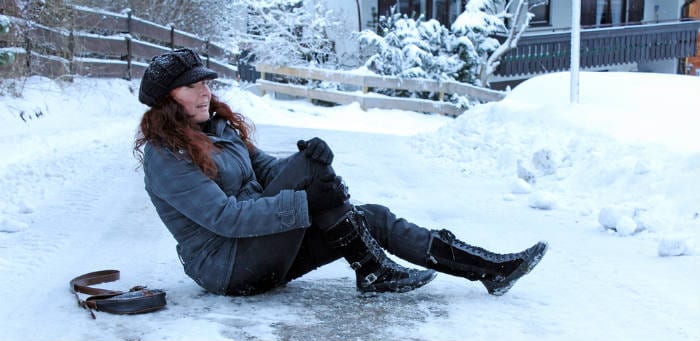 In the winter, ice can wreak serious havoc on pedestrian safety. The Federal Highway Administration (FHWA) notes that ice and snow produce slippery sidewalks, driveways, roads and stairs during the winter months.
Seniors are particularly susceptible to serious injuries caused by slip and falls in ice or snow. They frequently sustain hip fractures in these falls, according to the FHWA.
Who is responsible for making sure that walkways are not slick and icy? The answer depends on where the walkway is located.
Business owners generally have a duty to ensure that their sidewalks and staircases are not icy in the winter and to take steps to prevent slip and fall injuries. Private homeowners also have a duty to prevent hazards caused by icy walkways or warn about the potential risks.
Liquid Spills and Freshly Mopped Floors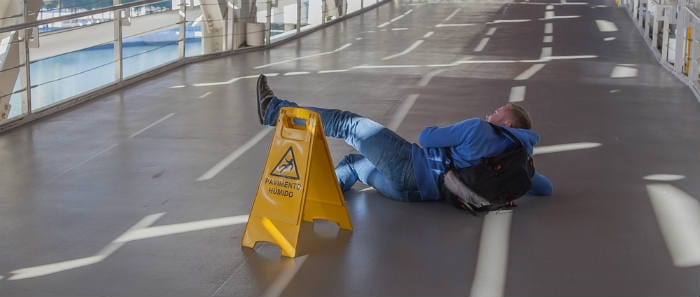 Whether you are indoors or outdoors, a liquid spill can quickly result in a serious and debilitating slip and fall.
According to the National Safety Council (NSC), it is extremely important for property owners to clean up liquid spills immediately and to warn guests and employees about freshly mopped floors.
Liquid spills can happen in many different places, from the walkway of a restaurant to an aisle in a local grocery store. Yet, liquid spills can also be connected to inclement weather in the winter months.
For example, if a person trudges through snow and ice and takes his or her boots off inside a doorway, a liquid puddle can quickly result from the melting snow and ice. In this situation, the property owner has a duty to take steps so that guests, customers and employees do not slip as a result of the liquid.
Inadequate Lighting Inside and Outside
The NSC also emphasizes that slips and falls can happen when there is inadequate lighting on a property — either inside or outside. If you cannot see where you are going, it can be difficult to avoid a slipping or a tripping hazard.
Property owners should ensure that there is adequate lighting around outdoor walkways as well as inside a property in any area where a slip, trip or fall might such as a hallway, staircase or lobby.
Dangerous Floors and Flooring Materials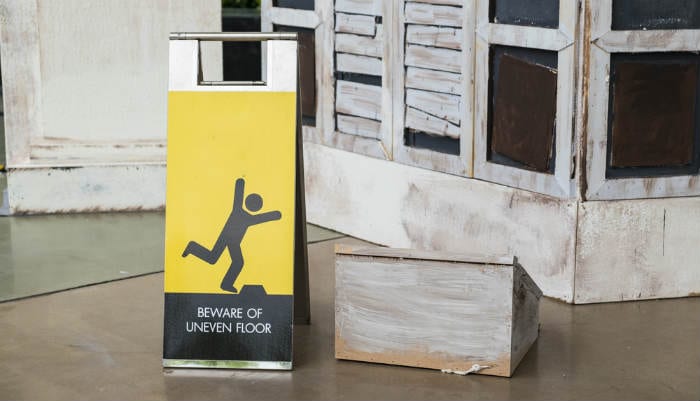 The Consumer Product Safety Commission reports that more than two million fall-related injuries occur every year due to floors and/or flooring materials.
Even though there may be absolutely nothing that is necessarily defective about the flooring material, it may still be inherently slick. For instance, tile floors tend to be quite slick for someone walking in socks or in shoes that do not have good treads. Hardwood flooring can be slippery in a similar way.
If a property owner does not use rugs with strong grips to prevent slip and falls or warn visitors about the potential dangers of a slip and fall, the property owner could end up being liable.
In other cases, a problem may exist with the flooring material itself. For example, hardwood floors can become uneven, or wall-to-wall carpeting can bunch up.
Such conditions can result in a slip and fall accident that the property owner should have taken steps to prevent.
Filing a Slip and Fall Accident Claim in New Jersey
If you have been injured in a dangerous slip and fall accident, and if you are able to do so, you should document the scene of the accident.
If you can take photos of the condition that caused the accident, use your smart phone to record the scene. You should be sure to take pictures from multiple angles, which will help to depict the scene of the slip and fall.
It is also important to gather contact information of any witnesses who might have observed the slip and fall accident. A witness might be able to speak about the dangerous condition and whether the property owner knew about the risks of an accident.
Once you have gathered as much evidence as possible at the scene of your slip and fall accident, it is important to seek medical attention. Your doctor can provide precise information about your injuries and ensure that you receive the treatment you need.
After seeking medical care, you should always reach out to a premises liability lawyer. If another party's negligence resulted in your slip and fall injuries, you should not be responsible for bearing the financial costs of the accident.
Get Help from a New Jersey Premises Liability Attorney
If you were injured in a slip and fall in Teaneck or elsewhere in New Jersey, an experienced premises liability lawyer from Davis, Saperstein & Salomon, P.C., can help you. Contact us today to discuss your case and learn more in a free consultation.
About the Author
Latest Posts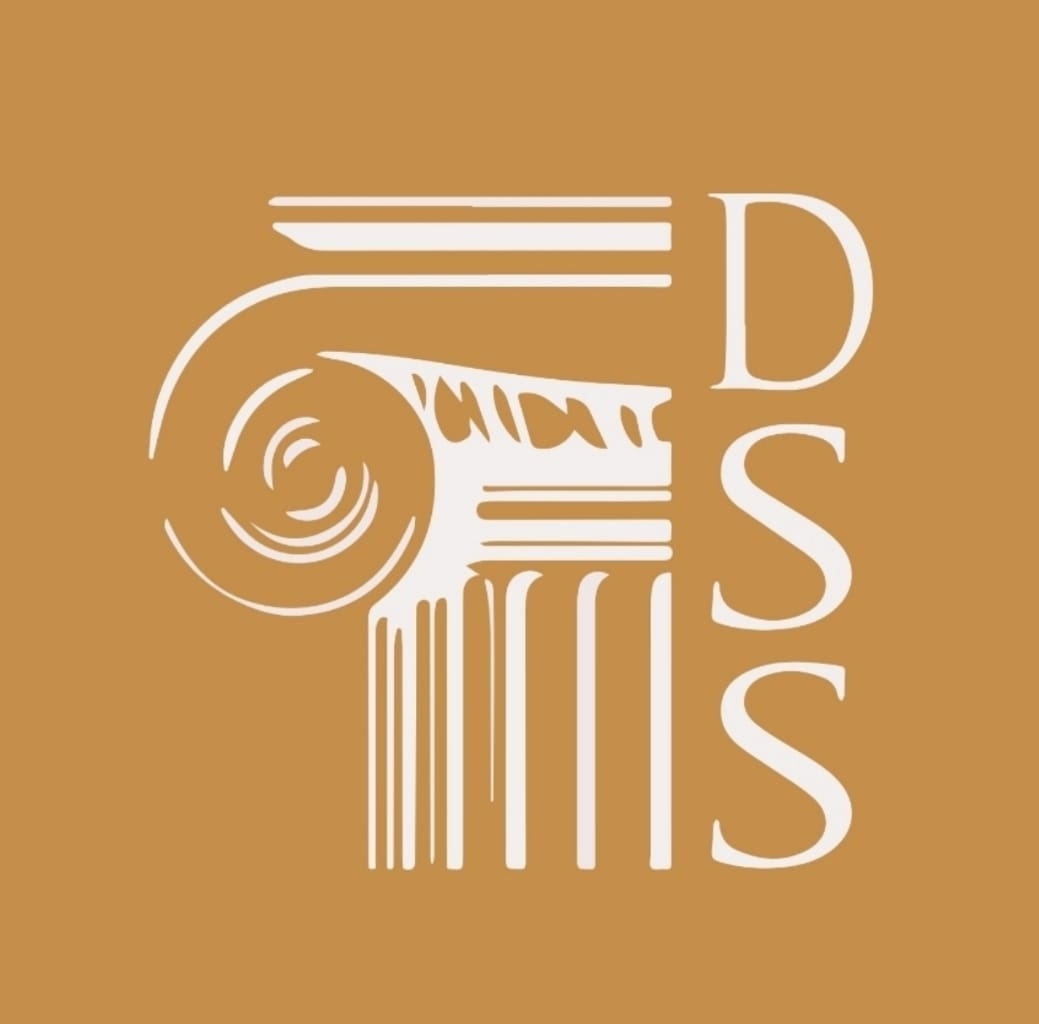 Since 1981, the compassionate personal injury lawyers at Davis, Saperstein & Salomon have been delivering results for our deserving clients. We are solely committed to helping injured individuals, never representing corporations. No matter how large or small your personal injury case is, you can trust that it is important to us.