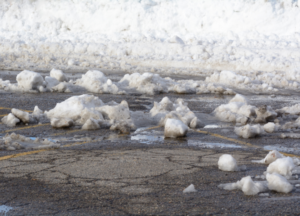 A man suffered a slip and fall personal injury on ice after parking his car at an apartment building in North Bergen, New Jersey. The man hired Davis, Saperstein & Salomon, P.C. partners Garry R. Salomon, and Adam B. Lederman as his personal injury lawyers. After they proved that the property owner was negligent by not salting and clearing dangerous ice, the client won a $650,000 out of court settlement.
The client, an electrician, finished his shift, drove home, and parked his car at a nearby apartment building. What made this case unusual was that the man was not a tenant of the building: he merely paid rent only for a parking spot in their parking lot. When he exited his vehicle and moved to open his trunk, he was caused to slip and fall, injuring the right side of his body. He was taken by ambulance to the Palisades Medical Center emergency room in North Bergen.
The slip and fall caused the client to suffer a comminuted hip fracture, which required two surgeries. His first surgery implanted a Stryker Gamma System 3 rod, and the second was a total hip replacement.  Following each operation, he attended a course of both inpatient and outpatient rehab and physical therapy.
Orthopedic surgeons were hired by the firm as expert medical witnesses. They wrote reports that proved the man suffered permanent injuries, justifying an award of money for his pain and suffering.
When the defendant's insurance company defended the claim by alleging the client caused his own injury due to his own carelessness and negligence, Davis, Saperstein & Salomon, P.C. attorneys Garry R. Salomon and Adam B. Lederman sued the property owner in the Superior Court of New Jersey, Bergen County. The lawsuit claimed that the owner, as the landlord of the parking space, was negligent and that his carelessness was the cause of the client's injury and resulting pain and suffering, medical bills, and lost income. We hired an engineering and safety expert witness to investigate and prove that the property owner was negligent. The expert found that the property owner violated various building and safety codes and was negligent in their failure to properly treat and remove parking lot ice.  In general, untreated snow and ice create a dangerous condition for customers, tenants, and visitors. As such, the expert witnesses hired by the firm proved that the apartment building owner's negligence caused the client's fall on ice and snow.
Davis, Saperstein & Salomon, PC partners Garry R. Salomon and Adam B. Lederman ensured that the client received proper compensation for his pain, suffering, and financial losses in the form of a $650,000 settlement.
Settlements are often limited by the total available insurance coverage. Insurance company adjusters and their lawyers often defend cases by claiming that a client was negligent and could have avoided being injured by arguing comparative negligence on the part of an injured client; or that their pain and suffering was caused by pre-existing medical conditions or prior injuries. Despite those defenses, the Davis, Saperstein & Salomon, PC lawyers won their client's injury claim. Each client's case is unique. Results may differ because of different facts, circumstances and available insurance coverage.
Call us now for a free and confidential case evaluation. We are also available 24/7 online at our website.
Medical Glossary
Comminuted fracture: When a bone fractures into several pieces, as opposed to only two.
Intramedullary rodding: Procedure used to realign and stabilize the femur bone, such that it is able to heal.
Stryker Gamma System 3: Intramedullary nailing system that treats a wide range of femoral fractures.
Total hip replacement: A surgical procedure that removes the hip's damaged bone and cartilage and replaces it with prosthetic components.