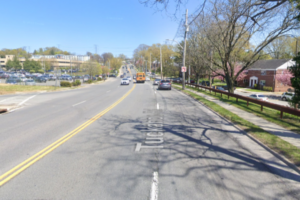 In Yonkers, New York, an elderly man was driving through a construction zone when he struck an improperly placed 446 Caterpillar Backhoe. After Davis, Saperstein & Salomon, P.C. partner Samuel L. Davis proved that the backhoe operator, the construction company, and the renter of the backhoe had been negligent in failing to properly dispose of the backhoe and maintain a safe environment for drivers, our client was awarded a $600,000 settlement. 
The construction zone was located along Tuckahoe Road, which was lined with bright orange construction barrels. As our client, the elderly man, was driving down the road, he crashed front-end into a backhoe protruding from between two barrels. Because the accident occurred late at night, our client was unable to see the backhoe.
The backhoe had been operated by a man employed by the construction company working on the Tuckahoe construction zone. The backhoe, however, had been rented to the construction company by a renting company. All three parties—the operator, the construction company, and the renting company—were sued and held liable by Davis, Saperstein & Salomon, P.C. partner Samuel L. Davis.
After the accident, our client was diagnosed with degenerative bulging discs, annular tears, and spinal stenosis at the L4-L5 and L5-S1 levels. To treat his spine, he underwent L4-L5 and L5-S1 decompression with fusion and instrumentation surgery; the instrumentation involved a pedicle screw fixation with rods. Following surgery, he continued to struggle with residual lower back pain, and required several physical therapy sessions. A decade following the accident, the man's lower back pain had radiated to his thighs, and he now also suffers from numbness in his thighs and weakness in his legs. 
A medical professional ultimately deemed the client to be permanently disabled; as such, he was unable to return to work as a manager at a restaurant. Davis, Saperstein & Salomon, P.C. partner Samuel L. Davis retained an economics expert to measure the extent of the financial loss suffered by the client. The expert found that he had lost approximately $190,000 in earnings and $37,000 in household services. 
Davis, Saperstein & Salomon, P.C. partner Samuel L. Davis ensured that our client received proper compensation for his injuries, pain, and suffering, in the form of a $600,000 settlement.
Settlements are often limited by the total available insurance coverage. Insurance company adjusters and their lawyers often defend cases by claiming that a client was negligent and could have avoided being injured by arguing comparative negligence on the part of an injured client; or that their pain and suffering was caused by pre-existing medical conditions or prior injuries. Despite those defenses, the Davis, Saperstein & Salomon, PC lawyers won their client's injury claim. Each client's case is unique. Results may differ because of different facts, circumstances and available insurance coverage.   
Call us now for a free and confidential case evaluation. We are also available 24/7 online at our website, www.dsslaw.com. 
Medical Glossary
Disc Bulge: An extension of disc tissue past the edge of the vertebrae.
Annual Tear: A fissure that occurs in an intervertebral disc as a result of spine degeneration. 
Spinal Stenosis: A condition in which the spinal cord or nerve roots are choked.
Pedicle Screw Fixation: A procedure that connects vertebrae in the spine to bone grafts using pedicle screws; the purpose is to stabilize the spine.