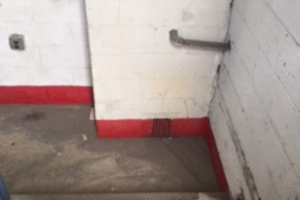 In North Bergen, New Jersey, an elderly man slipped and fell on a staircase while entering a property on Tonnelle Avenue. Davis, Saperstein & Salomon, P.C. Partner Steven Benvenisti proved that the property owners had been negligent in failing to maintain a well-lit staircase, and secured our client a $506,000 settlement.
The man had been visiting his son at his office, when he briefly exited the building through a staircase. While returning, he descended along the staircase but slipped because it was completely dark. Upon falling, our client lost consciousness and his wife and son took him to the Holy Name Medical Center in Teaneck, New Jersey.
The accident caused the client to injure his upper back and right shoulder; it also aggravated his pre-existing neck and back degenerative disc disease. In his cervical spine, he was diagnosed with radiculopathy and a herniated disc. His right shoulder suffered synovitis, tendinitis, impingement syndrome, and a labral tear. To treat his shoulder, he underwent an arthroscopy rotator cuff tendinitis excision, an acromioplasty, a distal claviculectomy, and tissue graft implantation. His spine will likely require a series of epidural injections and physical therapy.
The firm hired medical practitioners as expert witnesses, who wrote narrative reports proving the permanent nature of our client's injuries and our client's need for compensation in the form of money damages.
Personal injury attorney Steven Benvenisti also retained an engineering expert to assess liability in this case. The expert noted that the inoperative light fixture had only been repaired after the accident and before the expert's investigation. The expert opined that failure to maintain proper levels of light had resulted in darkness that had caused our client to fall down the steps.
Davis, Saperstein & Salomon, P.C. Partner Steven Benvenisti sued the property owners in the Bergen County Superior Court, winning our client proper compensation for his injuries, pain, and suffering, in the form of a $506,000 settlement.
Settlements are often limited by the total available insurance coverage. Insurance company adjusters and their lawyers often defend cases by claiming that a client was negligent and could have avoided being injured by arguing comparative negligence on the part of an injured client; or that their pain and suffering was caused by pre-existing medical conditions or prior injuries. Despite those defenses, the Davis, Saperstein & Salomon, PC lawyers won their client's injury claim. Each client's case is unique. Results may differ because of different facts, circumstances and available insurance coverage.
Call us now for a free and confidential case evaluation. We are also available 24/7 online at our website, www.dsslaw.com.
Medical Glossary
Cervical spine: The first seven vertebrae in the spine.
Radiculopathy: Compression of the spinal nerve that causes numbness and tingling in the spine.
Disc Herniation: Occurs when the exterior of a disc cracks and its nucleus pushes into the spinal canal and irritates surrounding nerves.
Synovitis: Inflammation of the synovial membrane, which lines several joints such as the hips, knees, and shoulders.
Tendinitis: Inflammation of a tendon, a tissue connecting muscle to bone.
Impingement Syndrome: Occurs when tendons in the rotator cuff are continuously pinched.
Labrum Tear: A tear in the labrum, which is a piece of tissue that surrounds the rim of the shoulder socket. The labrum assists in keeping the ball of the joint in place.
Arthroscopy: A surgical procedure that allows the surgeon to complete a procedure by inserting a small camera through a small incision.
Acromioplasty: A surgical procedure involving shaving away part of the shoulder bone, called the acromion.
Epidural Injection: The injection of anti-inflammatory medicine into an epidural space.
Distal Claviculectomy: A surgical procedure involving removing part of the clavicle in order to alleviate discomfort.