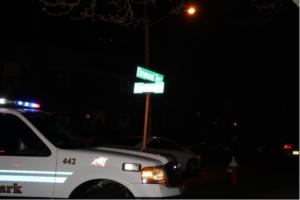 In Elmwood Park, New Jersey, an elderly woman was crossing a street when she was hit by a commercial vehicle. Davis, Saperstein & Salomon, P.C. Partner Samuel L. Davis proved that the driver had been driving recklessly and carelessly and secured our client a $500,000 settlement, which was the policy limit of the defendant.
As the woman was crossing the intersection of Boulevard and Elmwood Terrace, she was struck by the commercial vehicle. The impact threw her twelve feet into the air and onto a nearby parked car. Her purse, glasses, and shoes were all knocked off her person. She suffered injuries to her left shoulder, head, back, kidneys, and spleen. In her left shoulder, she suffered a full thickness tear of the infraspinatus tendon, a large partial bursal tear of the supraspinatus tendon, and a rotator cuff tear. Her shoulder required arthroscopic repair. Our client also suffered transverse and spinous process fractures in her thoracic spine. Her spleen was ruptured in the forceful impact, and her doctor stated that her left kidney was not functioning and may not return to normal function.
The firm hired medical practitioners as experts to independently assess the client's medical condition. The experts authored narratives and provided written and oral testimony on the permanency of our client's condition. They assisted personal injury attorney Samuel L. Davis in proving the woman's entitlement to monetary compensation.
Partner Samuel L. Davis also retained an accident reconstructionist expert to assess the scene of the accident and determine which party was liable. The expert produced a report explaining the circumstances of the accident, in which she opined that the driver of the commercial vehicle had been negligent.
Davis, Saperstein & Salomon, P.C. Partner Samuel L. Davis filed suit in the Bergen County Superior Court and ensured that our client received proper compensation for her pain and suffering, in the form of a $500,000 settlement.
Settlements are often limited by the total available insurance coverage. Insurance company adjusters and their lawyers often defend cases by claiming that a client was negligent and could have avoided being injured by arguing comparative negligence on the part of an injured client; or that their pain and suffering was caused by pre-existing medical conditions or prior injuries. Despite those defenses, the Davis, Saperstein & Salomon, PC lawyers won their client's injury claim. Each client's case is unique. Results may differ because of different facts, circumstances and available insurance coverage.
Call us now for a free and confidential case evaluation. We are also available 24/7 online at our website, www.dsslaw.com.
Medical Glossary
Full-Thickness Complete Tear: A tear in which a tendon is completely detached from the bone.
Rotator Cuff Tear: A tear in the tendons around the shoulder joint.
Arthroscopy: A surgical procedure that allows the surgeon to complete a procedure by inserting a small camera through a small incision.
Transverse Process Fracture: A type of spinal fracture involving the bones that comprise the spinal column.
Spinous Process Fracture: A break or crack in the back part of a vertebra.