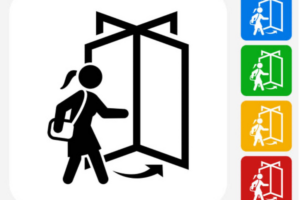 The revolving door of a property in Jersey City, New Jersey, injured an elderly woman as she exited the property. Davis, Saperstein & Salomon, P.C. Partner Marc C. Saperstein proved that the property owners and elevator company had been negligent in their failure to create a safe environment for patrons, securing our client a $500,000 settlement.
Upon entering the revolving door, the woman immediately noticed that the door was moving faster than other revolving doors typically did. As she was stepping out of the door, the door struck her back and threw her five feet forward, causing her to fall. The fall injured her left leg and hip. Our client was taken by ambulance to the Jersey City Medical Center, where it was determined that she had suffered a displaced left subcapital femur fracture. She then underwent a total left hip arthroplasty.
Davis, Saperstein & Salomon, P.C. partner Marc Saperstein hired medical practitioners to serve as expert witnesses to examine the client and author reports proving the permanency of her condition. Their testimony and reports served as evidence to prove that financial compensation was justified.
Marc C. Saperstein also retained an engineering expert witness to investigate the cause of the accident. The expert found that the elevator moved at a speed of 15.75 rotations per minute (RPMs), while the American National Standard for Power and Manual Operated Pedestrian Doors and New Jersey Building Code sets the maximum speed at 12 RPMs. The expert also found that the elevator maintenance company was contractually required
to inspect the revolving door twice every year, but hadn't inspected it even once in over a year. As such, when partner Marc C. Saperstein sued the elevator company and maintenance company in the Hudson County Superior Court, they were proven
responsible for the woman's injuries.
He ensured that our client received proper compensation for her pain and suffering, in the form of a $500,000 settlement.
Settlements are often limited by the total available insurance coverage. Insurance company adjusters and their lawyers often defend cases by claiming that a client was negligent and could have avoided being injured by arguing comparative negligence on the part of an injured client; or that their pain and suffering was caused by pre-existing medical conditions or prior injuries. Despite those defenses, the Davis, Saperstein & Salomon, PC lawyers won their client's injury claim. Each client's case is unique. Results may differ because of different facts, circumstances and available insurance coverage.   
Call us now for a free and confidential case evaluation. We are also available 24/7 online at our website, www.dsslaw.com.
Medical Glossary
Subcapital Fracture of the Femur: Fracture line running through the junction of the head
and neck of the femur.
Hip Arthroplasty: A surgical procedure in which the hip joint is replaced by a prosthetic
implant.