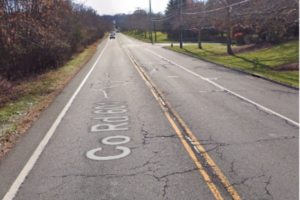 An elderly woman traveling northbound on Route 601 was struck head-on by a driver who swerved into her lane. The woman hired Davis, Saperstein & Salomon, P.C., to file a personal injury lawsuit on her behalf. Partner Patricia Z. Boguslawski proved that the other driver had been driving inattentively and negligently, and secured our client a $500,000 settlement.
The collision occurred in Montgomery, New Jersey, when our client was driving herself and her husband home from a restaurant. While she was driving, they were suddenly hit head-on by a car that had been traveling southbound that swerved across the highway's center double yellow line. The driver of the other vehicle claimed that he had swerved to avoid hitting a deer, but personal injury attorney Patricia Z. Boguslawski showed that he was still liable for causing the collision.
Our client suffered an open tibia fracture in her right leg, and an open fracture in her right wrist. Both fractures required a surgical procedure called an open reduction internal fixation. Post-operatively, she attended rehabilitation and physical therapy programs for several weeks. The woman's life has changed significantly as a result of the collision. She lost much of her flexibility, strength, and range of motion.
The firm hired physicians to serve as expert witnesses. They offered reports that helped the firm prove the permanent nature of the woman's injuries. Their reports and testimony served as evidence that our client deserved financial compensation for her lost income, medical bills, and for her pain and suffering.
Partner Patricia Z. Boguslawski sued the other driver in the Mercer County Superior Court and ensured that our client received proper compensation for her pain and suffering, in the form of a $500,000 settlement.
Settlements are often limited by the total available insurance coverage. Insurance company adjusters and their lawyers often defend cases by claiming that a client was negligent and could have avoided being injured by arguing comparative negligence on the part of an injured client; or that their pain and suffering was caused by pre-existing medical conditions or prior injuries. Despite those defenses, the Davis, Saperstein & Salomon, PC lawyers won their client's injury claim. Each client's case is unique. Results may differ because of different facts, circumstances and available insurance coverage.
Call us now for a free and confidential case evaluation. We are also available 24/7 online at our website, www.dsslaw.com.
Medical Glossary
Open Tibia Fracture: An injury that occurs when the shinbone (tibia) breaks through the skin.
Open Reduction Internal Fixation (ORIF): A two-step surgical intervention that involves first creating an incision to access the bone, and then piecing the bone together with hardware.