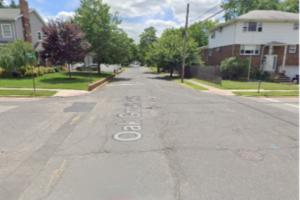 In Hasbrouck Heights, New Jersey, a man was struck by another driver who drove recklessly going through an intersection. Davis, Saperstein & Salomon, P.C. Partner Garry R. Salomon and Senior Associate Jeffrey E. Salomon proved that the reckless driver had negligently operated her vehicle, and secured the man, our client, a $695,000 settlement. Prior to trial, the defendant, who was insured by Allstate Insurance for $100,000, had offered only $6,000 to settle the claim.
Our client was driving on Lawrence Avenue and was traversing its intersection with Oak Grove when the other vehicle drove through the intersection. He did not have time to react and collided with the vehicle's driver door. Our client was transported to Hackensack University Medical Center via ambulance.
Our client suffered injuries to his spine, shoulders, and right elbow. He suffered three disc herniations and two disc bulges in his cervical and lumbar spine. In both of his shoulders, he developed subacromial/subdeltoid bursitis and impingement syndrome. In his right elbow, he developed ulnar nerve neuropathy that would contribute to numbing and tingling radiating into his fingertips. Our client underwent conservative treatment, including physical therapy and acupuncture, but he may require steroid injections and surgical intervention in the future.
The firm hired his treating doctors to serve as expert witnesses. They authored narrative reports and gave written and oral testimony that proved the permanent nature of the man's injuries. Their testimony and reports served as evidence that our client deserved financial compensation as money damages for his loss in income, medical bills, and pain and suffering.
Lawyers Garry R. Salomon and Jeffrey E. Salomon also hired an economics expert to assess the extent of financial damages suffered by the client. The expert found that our client had suffered a financial loss of over $200,000.
Even though the defendant had only $100,000 of insurance coverage, the firm proved bad faith on the part of the insurance company and collected an excess verdict in the Bergen County Superior Court. After the jury deliberated, they came back with an excess verdict of $795,000. But, this case was made more difficult because the client was involved in a second motor vehicle accident a few months following this accident. This made it difficult to show that the client's injuries were the causal result of the first motor vehicle accident. However, Davis, Saperstein & Salomon, P.C. established this causal link with the help of their expert medical testimony, and ensured that he received proper compensation for his pain and suffering, with a $695,000 settlement.
Settlements are often limited by the total available insurance coverage. Insurance company adjusters and their lawyers often defend cases by claiming that a client was negligent and could have avoided being injured by arguing comparative negligence on the part of an injured client; or that their pain and suffering was caused by pre-existing medical conditions or prior injuries. Despite those defenses, the Davis, Saperstein & Salomon, PC lawyers won their client's injury claim. Each client's case is unique. Results may differ because of different facts, circumstances and available insurance coverage.
Call us now for a free and confidential case evaluation. We are also available 24/7 online at our website, www.dsslaw.com.
Medical Glossary
Disc Herniation: Occurs when the exterior of a disc cracks and its nucleus pushes into the spinal canal and irritates surrounding nerves.
Disc Bulge: An extension of disc tissue past the edge of the vertebrae.
Bursitis: An inflammation of the bursae, which are fluid-filled sacs that cushion joints.
Impingement Syndrome: Occurs when tendons in the rotator cuff are continuously pinched.
Ulnar Sensory Neuropathy: A disorder affecting the fifth digit and medial half of the fourth digit, causing tingling, pain, and weakness.