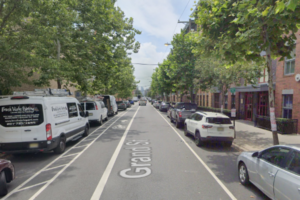 A U.S. Postal Service letter carrier was injured while delivering a package to a business on Grand Street in Hoboken, New Jersey. Partner Adam B. Lederman proved that the business was negligent in its failure to create a safe environment for guests, visitors, and patrons, and secured our client a $700,000 settlement.
The letter carrier had an express delivery package for a business on Grand Street that needed the business owner's signature. After knocking and not receiving a response, he entered the suite. When he rounded the hallway, he saw an unleashed boxer barking loudly and beginning to move towards him. The client then heard the business owner shouting "No!". Our client began running towards the exit and collided with the door.
The collision caused our client to suffer injuries to his knees. He suffered bilateral joint effusions and bilateral patellar tendon tears, with an avulsion fracture of the right patellar apex. He was unable to bear weight on either of his legs. Our client underwent surgery, which included bilateral open debridement of bone and soft tissue, and bilateral patellar tendon repair. Post-operatively, he was placed on a knee immobilizer and attended months of physical therapy.
Davis, Saperstein & Salomon, P.C. partner Adam B. Lederman argued that the business owner did not take the appropriate measures to create a hazard-free environment. He argued that the owner should have had a sign, bell, or buzzer alerting visitors of the dog's presence, or the person's presence to staff so that the dog could be leashed. The business owner was held liable for our client's medical bills and loss of income. Partner Adam B. Lederman sued the owner in the Hudson County Superior Court and ensured that our client received proper compensation for his pain and suffering, in the form of a $700,000 settlement.
Settlements are often limited by the total available insurance coverage. Insurance company adjusters and their lawyers often defend cases by claiming that a client was negligent and could have avoided being injured by arguing comparative negligence on the part of an injured client; or that their pain and suffering was caused by pre-existing medical conditions or prior injuries. Despite those defenses, the Davis, Saperstein & Salomon, PC lawyers won their client's injury claim. Each client's case is unique. Results may differ because of different facts, circumstances and available insurance coverage.   
Call us now for a free and confidential case evaluation. We are also available 24/7 online at our website, www.dsslaw.com.
Medical Glossary
Bilateral Joint Effusions: Swollen joints occurring in both legs. They are caused by excess fluid flooding tissues around the joint.
Bilateral Patellar Tendon Tear: A tear in the tendon connecting the patella and tibia bones.
Fracture of the Right Patellar Apex: A type of fracture of the kneecap.
Debridement: The removal of skin tissue to assist a wound in healing.