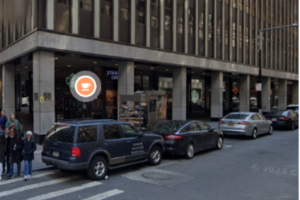 While walking on Broad Street in Manhattan, New York City, a man tripped and fell on an elevated curb. He was trying to avoid an area of fresh asphalt on the sidewalk when he tripped on the sidewalk's curb and fell onto the road. Loose cobblestone on the unfinished road caused him to lose his balance again, and he fell and landed on his elbow. In the New York Supreme Court, Davis, Saperstein and Salomon, P.C. Partner Marc C. Saperstein proved that the construction company was negligent in failing to maintain a safe environment for pedestrians, and secured our client a $3,000,000 settlement.
The client filed a report with the NYSE Medical Unit and went to the Beth Israel Medical Center in New York City for medical care. He suffered injuries to his right arm and was diagnosed with arm neuropathy, and underwent ulnar nerve transposition with flexor pronator slide, multiple platelet plasma injections, and several stellate block injections. Our client also endured months of physical therapy. Injuries to the elbow are extremely painful.
Davis, Saperstein and Salomon, P.C. hired medical experts to author narratives proving the permanent nature of our client's injuries. The firm also hired a vocational economics expert to determine the past and future financial loss suffered by the client. The expert found that, because the client was unable to return to his work as a security guard, he had suffered a loss in future earning capacity of several hundred thousand dollars.
To prove the negligence of the construction company the firm also hired an engineering consulter. The lawyers need proof that the Defendant failed to maintain safe industry practices. The expert opined that the company violated several industry guidelines, such as by allowing the sidewalk to have a ½ inch height differential without a ramp. He also determined that the loose cobblestone that our client fell on was a tripping hazard that should have been repaired by the defendant.
Despite the filing of an appeal in the Appellate Division of the New York Supreme Court, Partner Marc Saperstein continued his fight, and ultimately settled the case for the same amount.
Settlements are often limited by the total available insurance coverage. Insurance company adjusters and their lawyers often defend cases by claiming that a client was negligent and could have avoided being injured by arguing comparative negligence on the part of an injured client; or that their pain and suffering was caused by pre-existing medical conditions or prior injuries. Despite those defenses, the Davis, Saperstein & Salomon, PC lawyers won their client's injury claim. Each client's case is unique. Results may differ because of different facts, circumstances and available insurance coverage.
Call us now for a free and confidential case evaluation. We are also available 24/7 online at our website, www.dsslaw.com.  
Medical Glossary:
Platelet Plasma Injection: injections of a concentration of a patient's own platelets to accelerate the healing of injured tendons, ligaments, muscles, and joints.
Stellate Ganglion Block: an injection of local anesthetic into the front of the neck; used to diagnose the cause of pain in the face, head, arms, and chest
Subcutaneous Ulnar Nerve Transposition: a surgical treatment for ulnar neuropathy at the elbow; moving the ulnar nerve to a position where it is not irritated or pinched.
Ulnar Neuropathy: a disorder involving the ulnar nerve; causes numbness.