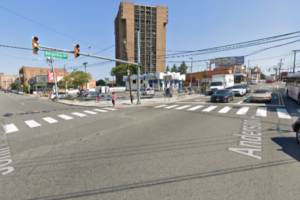 A driver working for a ride-sharing app struck a pedestrian crossing an intersection in North Bergen, New Jersey. Davis, Saperstein & Salomon, P.C. Partner Samuel L. Davis proved that the driver had been negligent in failing to drive attentively and secured the injured pedestrian an $850,000 settlement. 
Our client was walking to her church, when, while crossing the intersection of Kennedy Avenue and Bergenline Boulevard, she was struck by a car. She lost consciousness upon impact and was taken by ambulance to the Jersey City Medical Center.
She was diagnosed with a displaced fracture of the right proximal humerus and a fracture dislocation of her left ankle. She underwent open reduction internal fixations to treat both fractures, but she continues to experience chronic symptoms like pain, stiffness, swelling, and loss of range of motion. Moreover, she has a greater likelihood of developing posttraumatic arthritis in both of these extremities. 
The firm hired medical experts to independently examine our client and serve as expert witnesses. The experts produced written reports, written testimony, and oral testimony, that helped prove the permanency of our client's injuries and her need for financial compensation.
Personal injury attorney Samuel L. Davis also retained an accident reconstruction expert to assess liability. The expert found that, despite our client having been crossing during a red light, the driver could have prevented the accident from occurring, had he been fully attentive to the traffic and roadway conditions at the intersection. The expert opined that, had the driver been fully attentive, the driver would have had time to brake and avoid hitting our client. In fact, the video footage from the day of the accident shows that the driver only began to brake approximately one-half second after hitting our client. The expert determined that the driver was negligent in failing to watch for pedestrians and pay close attention to intersections, as mandated by the New Jersey Driver Manual. 
Davis, Saperstein & Salomon, P.C. partner Samuel L. Davis sued the ride-share company in the Superior Court of New Jersey and ensured that our client received proper compensation for her pain and suffering, in the form of an $850,000 settlement.
Settlements are often limited by the total available insurance coverage. Insurance company adjusters and their lawyers often defend cases by claiming that a client was negligent and could have avoided being injured by arguing comparative negligence on the part of an injured client; or that their pain and suffering was caused by pre-existing medical conditions or prior injuries. Despite those defenses, the Davis, Saperstein & Salomon, PC lawyers won their client's injury claim. Each client's case is unique. Results may differ because of different facts, circumstances and available insurance coverage.   
Call us now for a free and confidential case evaluation. We are also available 24/7 online at our website, www.dsslaw.com. 
Medical Glossary
Displaced Fracture: Occurs when a bone snaps into two or more pieces and such that they are no longer in alignment with each other. 
Humerus: The long bone in the arm that runs from the shoulder to the elbow. 
Open Reduction Internal Fixation: A surgery used to treat severe fractures. A surgeon creates an incision to re-align the bone, and fixates the bone together with hardware. 
Post-Traumatic Arthritis: Arthritis that occurs after one experiences a trauma.