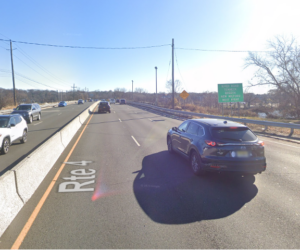 In Paramus, New Jersey, while driving eastbound on Route 4, a woman suffered severe injuries after being rear-ended. Davis, Saperstein & Salomon, P.C. Partner Samuel L. Davis proved that the driver was negligent in failing to maintain a proper distance between the involved vehicles, and secured our client a $560,000 settlement.
This case involved three vehicles. The driver of the first vehicle was found to be negligent, because he admitted to being distracted when he rear-ended the second vehicle, which forced the second vehicle to rear-end the vehicle being driven by our client.
As a result of the defendant's negligence, our client suffered injuries to her back, neck, shoulder, and head. She suffered multiple disc herniations and disc bulges in her cervical, thoracic, and lumbar spine, and the accident reaggravated a prior left shoulder injury that developed into an acute left shoulder sprain. The client also developed post-concussion syndrome and post-traumatic headaches. To treat her spine, she underwent medial branch block injections, epidural corticosteroid injections, transforaminal epidural corticosteroid injections, and an anterior cervical C5-C6 discectomy and fusion. Prior to this surgery, our client also received physical therapy, chiropractic care, and acupuncture which failed to relieve the pain.
The firm hired medical specialists as expert witnesses to independently assess our client's condition. The experts authored narratives and provided written and oral testimony, assisting Partner Samuel L. Davis in his task of proving the permanency of our client's injuries. Proving permanency is a key part of demonstrating a client's entitlement to financial compensation.
The injuries suffered by our client have had a drastic impact on her life. She struggles to complete household chores and can no longer drive. Additionally, she has struggled to return to work, because standing for prolonged periods of time causes her neck and back pain.
Davis, Saperstein & Salomon, P.C. Partner Samuel L. Davis filed suit in the Superior Court of New Jersey. He fought for our client to receive proper compensation for her pain and suffering, and secured her a $560,000 settlement.
Settlements are often limited by the total available insurance coverage. Insurance company adjusters and their lawyers often defend cases by claiming that a client was negligent and could have avoided being injured by arguing comparative negligence on the part of an injured client; or that their pain and suffering was caused by pre-existing medical conditions or prior injuries. Despite those defenses, the Davis, Saperstein & Salomon, PC lawyers won their client's injury claim. Each client's case is unique. Results may differ because of different facts, circumstances and available insurance coverage.
Call us now for a free and confidential case evaluation. We are also available 24/7 online at our website, www.dsslaw.com.
Medical Glossary
Cervical Spine: The first seven vertebrae in the spine.
Thoracic Spine: The twelve vertebrae that comprise the mid-region of the spine.
Lumbar Spine: The lower back, containing five vertebrae.
Disc Bulge: An extension of disc tissue past the edge of the vertebrae.
Disc Herniation: A greater amount of tissue extension compared to a bulging disc.
Post-Concussion Syndrome: Occurs when concussion symptoms continue past the expected recovery time.
Medial Branch Block Injections: A type of spinal injection that is done to temporarily block pain signals emitting from the medial nerves.
Epidural Corticosteroid Injections: The injection of anti-inflammatory medicine into the epidural space in the spine.
Transforaminal Corticosteroid Injections: A type of spinal injection that is done to alleviate lower back pain by injecting steroid medicine into the foramen.
Anterior Cervical Discectomy and Fusion: A surgical procedure that removes the disc and the disc material pressing on the cervical spine.