In Newark, New Jersey, a flight attendant stopped at a traffic light and was rear-ended by a truck. She hired Davis, Saperstein & Salomon, P.C. partner Garry R. Salomon to file a personal injury lawsuit against the truck driver on her behalf. Attorney Garry R. Salomon proved that the truck driver was driving recklessly and inattentively, and our client won a $691,500.54 settlement.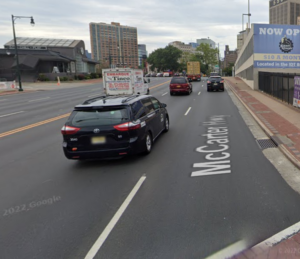 The woman was driving along McCarter Highway towards Newark Airport, but she was caused to stop after the car in front of her reached a red traffic light. The truck behind her did not stop, and rear-ended the passenger bumper of her car, pushing her car into the crosswalk area. She was taken by ambulance to the University Hospital in Newark.
The accident aggravated the woman's pre-existing cervical and lumbar spine injuries. Prior to the accident, she had a mild bulge at L5-S1, but the accident aggravated her injury and there she developed a herniated disc and annular tear. She underwent a lumbar laminectomy and discectomy at L5-S1, which reduced her symptoms but did not resolve them. She attended several months of physical therapy and unfortunately fell into a depression in the aftermath of the accident.
The firm hired several medical practitioners to serve as expert witnesses and to write reports proving the permanent nature of the woman's injuries. Their testimony and reports served as evidence that our client needed financial compensation for her loss of income, medical bills, and pain and suffering. Lawyer Garry R. Salomon also retained an economics expert to assess the extent of financial damages suffered by our client. The expert found that, because our client is currently on medical leave and is unsure of when she will be able to return to work, she suffered an approximate loss in earnings of over $100,000 and in household services of over $300,000.
Partner Garry R. Salomon sued the truck driver in the New Jersey Superior Court and ensured that our client received proper compensation for her pain and suffering, in the form of a $691,500.54 settlement.
Settlements are often limited by the total available insurance coverage. Insurance company adjusters and their lawyers often defend cases by claiming that a client was negligent and could have avoided being injured by arguing comparative negligence on the part of an injured client; or that their pain and suffering was caused by pre-existing medical conditions or prior injuries. Despite those defenses, the Davis, Saperstein & Salomon, PC lawyers won their client's injury claim. Each client's case is unique. Results may differ because of different facts, circumstances, and available insurance coverage.
Call us now for a free and confidential case evaluation. We are also available 24/7 online at our website.
Medical Glossary
Cervical spine: The first seven vertebrae in the spine.
Lumbar spine: The lower back, containing five vertebrae.
Disc herniation: Occurs when the exterior of disc cracks and its nucleus pushes into the spinal canal and irritates surrounding nerves.
Annual tear: A fissure that occurs in an intervertebral disc as a result of spine degeneration.
Laminectomy: The surgical procedure that removes the lamina (the back of the vertebra that covers the spinal canal); also known as a decompression surgery.
Discectomy: The surgical procedure that removes the herniated disc.