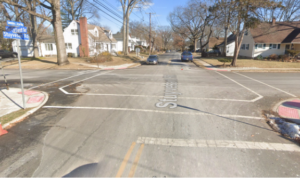 In Teaneck, New Jersey, a ride-share driver was struck by a vehicle that failed to adhere to a stop sign at an intersection. Davis, Saperstein & Salomon, P.C. Partner Samuel L. Davis proved that the driver was negligent in failing to stop, securing our client a $899,000 settlement.
Our client was driving a user to their destination when, while turning left at the intersection of Van Cortlandt Terrace and Stuyvesant Road, the side of her car was struck by another vehicle. Her car was a total loss. Over the next few days, our client developed symptoms in her cervical and lumbar spine.
The 27-year-old woman was diagnosed with a disc bulge at C5-C6, disc herniations at C6-C7 and L5-S1, an annular tear at L5-S1, and radiculopathy at both C6-C7 and L5-S1. She received several pain management injections, including epidural injections, nerve root blocks, and median branch facet blocks, before finally receiving surgery. She underwent an L5 laminectomy with lateral recess decompression and an S1 laminectomy with discectomy and foraminotomy.
The firm hired medical specialists to serve as expert witnesses. They authored narratives and produced written and oral testimony to prove that the client had suffered permanent injuries and her need for monetary compensation.
Despite receiving various forms of treatment, our client's back pain persisted. Most of the activities that she performed ease, such as bending over, washing the dishes, and carrying groceries, now cause her pain. Davis, Saperstein & Salomon, P.C. Partner Samuel L. Davis sued the other driver in the Bergen County Superior Court and obtained compensation for her losses with a $899,000 settlement.
Settlements are often limited by the total available insurance coverage. Insurance company adjusters and their lawyers often defend cases by claiming that a client was negligent and could have avoided being injured by arguing comparative negligence on the part of an injured client; or that their pain and suffering was caused by pre-existing medical conditions or prior injuries. Despite those defenses, the Davis, Saperstein & Salomon, PC lawyers won their client's injury claim. Each client's case is unique. Results may differ because of different facts, circumstances and available insurance coverage.
Call us now for a free and confidential case evaluation. We are also available 24/7 online at our website, www.dsslaw.com.
Medical Glossary
Disc bulge: An extension of disc tissue past the edge of the vertebrae.
Disc herniation: A greater amount of tissue extension compared to a bulging disc.
Annual tear: A fissure that occurs in an intervertebral disc as a result of spine degeneration.
Radiculopathy: Compression of a nerve that results in tingling and/or numbness.
Epidural injections: The injection of anti-inflammatory medicine into the epidural space in the spine.
Nerve root blocks: The injection of a local anesthetic and steroid to block pain signals that travel down specific nerves.
Medial branch block injections: A type of spinal injection that is done to temporarily block pain signals emitting from the medial nerves.
Discectomy: The surgical procedure that removes the herniated disc.
Laminectomy: The surgical procedure that removes the lamina (the back of the vertebra that covers the spinal canal); also known as decompression surgery.
Foraminotomy: A surgical procedure that removes a small part of the affected bone to enlarge the passageway through which a spinal root nerve branches from the spinal canal.