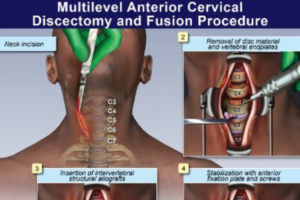 In Fairview, New Jersey, a rideshare driver was heading northbound on Bergen Boulevard when he was rear-ended by a driver who had fallen asleep at the wheel. Davis, Saperstein & Salomon, P.C. partner Samuel L. Davis proved that the sleeping driver had been negligently operating his vehicle and secured our client a $500,000 settlement. 
Our client was transported by ambulance to the Hackensack University Medical Center. His spine was severely injured: his cervical spine suffered a fracture on the C5 level, and he developed several disc bulges in his lumbar spine. For treatment, he underwent an anterior discectomy and fusion at C5-C6, which required the placement of a PEEK cage and an anterior plate. He also spent months in physical therapy, attempting to improve his mobility.
Despite the surgery, the client remains with significant spinal stenosis at C5-C6 and C6-C7, as well as a failed fusion at C5-C6. He can no longer bike or play tennis with his wife, nor can he play with his young daughter. Our client is unable to provide financially for his family, placing a great deal of stress on his wife. 
The firm hired medical practitioners, including an orthopedic spine surgeon, to independently examine the client and serve as expert witnesses. They wrote reports and offered oral and written testimony that helped prove the permanent nature of our client's injuries and prove our client's need for monetary compensation.
Personal injury attorney Samuel L. Davis also retained an economics expert to assess the extent of the financial damage suffered by the client. The expert completed a thorough analysis to determine that our client had suffered a total loss of several hundred thousand dollars. 
Life for the family drastically changed following the accident. Davis, Saperstein & Salomon, P.C. partner Samuel L. Davis ensured that they received proper compensation for their pain and suffering, in the form of a $500,000 settlement. 
Settlements are often limited by the total available insurance coverage. Insurance company adjusters and their lawyers often defend cases by claiming that a client was negligent and could have avoided being injured by arguing comparative negligence on the part of an injured client; or that their pain and suffering was caused by pre-existing medical conditions or prior injuries. Despite those defenses, the Davis, Saperstein & Salomon, PC lawyers won their client's injury claim. Each client's case is unique. Results may differ because of different facts, circumstances and available insurance coverage.   
Call us now for a free and confidential case evaluation. We are also available 24/7 online at our website, www.dsslaw.com. 
Medical Glossary
Cervical Spine: The first seven vertebrae in the spine.
Lumbar Spine: The lower back, containing five vertebrae.
Disc Bulge: An extension of disc tissue past the edge of the vertebrae.
Anterior Cervical Discectomy and Fusion: A surgical procedure that removes the disc and the disc material pressing on the spine, and then fuses the spine together with a graft.
PEEK Cage: An interbody cage that may be made of metal, polymer, ceramic, or a fusion of other materials. It is put in place of the affected disc after the disc was removed.
Spinal Stenosis: A condition in which the spinal cord or nerve roots are choked.