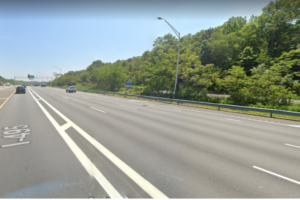 Our client, while driving a tractor-trailer was injured after a three-way collision on the Long Island Expressway in New York. Our client was driving in stop-and-go traffic when he was rear ended by another tractor-trailer near Exit 30. His truck was then pushed into a car carrier truck ahead of him, causing one of its cars to break through his windshield. Davis, Saperstein & Salomon, P.C. Partner Marc C. Saperstein filed suit in the New York Supreme Court, Queens County, alleged the rear-ending driver was negligent in their failure to safely operate his trailer, and secured our client a $2,270,000 settlement after the case went to trial.
Our client suffered injuries on his back and neck, diagnosed as herniated discs, radiculopathy, spondylosis, and degenerative disc disease. He also injured his head, which was later diagnosed with post-concussion syndrome. He underwent a series of epidural injections before undergoing a posterior lumbar interbody fusion with instrumentation, laminectomy and discectomy. Our client furthermore completed several months of physical therapy after his surgeries to improve his condition.
Davis, Saperstein & Salomon, P.C. retained a vocational expert and economist which analyzed the client's future employability and loss in income. Our experts opined that our client's injuries limited his ability to work as a truck driver, causing him to suffer a loss in future earning capacity of several hundred thousand dollars.
The experts' reports helped Davis, Saperstein & Salomon, P.C. Partner Marc C. Saperstein in his fight to secure our client compensation for his injuries, pain, and suffering.
Settlements are often limited by the total available insurance coverage. Insurance company adjusters and their lawyers often defend cases by claiming that a client was negligent and could have avoided being injured by arguing comparative negligence on the part of an injured client; or that their pain and suffering was caused by pre-existing medical conditions or prior injuries. Despite those defenses, the Davis, Saperstein & Salomon, PC lawyers won their client's injury claim. Each client's case is unique. Results may differ because of different facts, circumstances and available insurance coverage.
Call us now for a free and confidential case evaluation. We are also available 24/7 online at our website, www.dsslaw.com.  
Medical Glossary:
Cervical Discectomy: Cervical discectomy is a major surgery to remove a herniated or degenerative disc in the neck. Typical recovery time in patients is two to six weeks, with most people being able to continue normal activity.
DDD (Degenerative Disc Disease): The term degenerative disc disease is not really a disease, but a term used to describe the normal changes of the discs in the spine as a person ages. It can also occur due to an injury. The breakdown of the discs can result in back pain, neck pain, or other problems. The pain can range from minor to excruciating.
Herniated Discs: Herniation describes an abnormality of the intervertebral disc that is also known as a "slipped," "ruptured," or "torn" disc. This process occurs when the inner core (nucleus pulposus) of the intervertebral disc bulges out through the outer layer of ligaments that surround the disc (annulus fibrosis). This tear in the annulus fibrosis may cause pain in the back at the point of herniation. If the protruding disc presses on a spinal nerve, the pain may spread to the area of the body that is served by that nerve. Between each vertebra in the spine are a pair of spinal nerves, which branch off from the spinal cord to a specific area in the body. Any part of the skin that can experience hot and cold, pain or touch refers that sensation to the brain through one of these nerves. In turn, pressure on a spinal nerve from a herniated disc may cause pain in the part of the body that is served by that nerve.
Laminectomies: a surgical operation to remove the back of one or more vertebrae, usually to give access to the spinal cord or to relieve pressure on nerves
Post-Concussion Syndrome: Persisting headaches, dizziness, problems with concentration and memory weeks after a head injury.
Spinal Fusions: surgery to permanently connect two or more vertebrae in the spine, eliminating motion between them.
Spondylosis: small crack or displacement between two vertebrae.