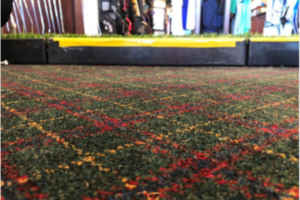 In North Caldwell, New Jersey, a woman slipped on the curb edge of a raised practice putting green in a golf pro shop, sustaining severe injury to the right side of her body and her back. Davis, Saperstein & Salomon, P.C. Partner Samuel L. Davis proved that the country club was negligent in unlawfully constructing the platform, securing our client a $687,500 settlement. 
While waiting for one of her friends to arrive, our client decided to peruse the country club's pro golf shop. As she was shopping, she tripped and fell on a raised putting green platform. After falling, she was unable to move and needed the assistance of the shop's employees to stand. 
Her trip and fall caused severe injury to her right arm, chest, face, and spine. To her right arm, she suffered a radial head fracture, an avulsion fracture of the coronoid process of the ulna, and a fracture at the base of the secondary metacarpal. She suffered three fractures in her ribcage and fractured teeth on her lower partial, and she developed several bulging discs in her cervical, lumbar, and thoracic spines.
To treat her arm, our client wore a posterior splint and sling and attended physical therapy. For her spine, she underwent a series of transforaminal epidural injections, facet joint injections, cervical epidural injections, a right hip bursa injection, and an occipital nerve root block. She also required a spinal cord stimulator placement in her thoracic spine at the T8-T9 level.
The firm hired medical experts to serve as expert witnesses. They produced reports and delivered written and oral testimony that helped Partner Samuel L. Davis prove the permanent nature of the client's injuries and her need for financial compensation. 
Davis, Saperstein & Salomon, P.C. Partner Samuel L. Davis also retained an engineering expert to determine the liable party. The expert found that our client had tripped and fell on a 3-1/8" curb edge of a mini golf platform. The expert found that the platform had been built without a permit, and the curb edge did not abide by the standards of the American Disability Association (ADA); specifically, ADA standards state that an accessible route may only change in level without edge treatment up to ¼ inch. A 3-1/8" curb is in flagrant violation of ADA standards, and demonstrates the country club and the golfing department's negligence in failing to create a safe environment for patrons. 
Since the fall, the client has been unable to fully partake in her two favorite sports—golf and bowling—nor is she able to enjoy her daily walks in the park or exercise at her gym. Once a very active and sociable person, she is now largely confined to her home because of the severity of her injuries. 
Davis, Saperstein & Salomon, P.C. Partner Samuel L. Davis filed suit in the Superior Court of New Jersey. He ensured that our client received proper compensation for her injuries and pain and suffering, securing her a $687,500 settlement.
Settlements are often limited by the total available insurance coverage. Insurance company adjusters and their lawyers often defend cases by claiming that a client was negligent and could have avoided being injured by arguing comparative negligence on the part of an injured client; or that their pain and suffering was caused by pre-existing medical conditions or prior injuries. Despite those defenses, the Davis, Saperstein & Salomon, PC lawyers won their client's injury claim. Each client's case is unique. Results may differ because of different facts, circumstances and available insurance coverage.    
Call us now for a free and confidential case evaluation. We are also available 24/7 online at our website, www.dsslaw.com. 
Medical Glossary
Cervical Spine: The first seven vertebrae in the spine.
Lumbar Spine: The five vertebrae of the lower back. 
Thoracic Spine: The twelve vertebrae that comprise the mid-region of the spine. 
Bulging Disc: An extension of disc tissue past the edge of the vertebrae.
Radial Head Fracture: An elbow fracture of the "head", or top, of the radius bone, which is one of the bones that travels up the forearm. 
Avulsion Fracture of the Coronoid Process of the Ulna: A fracture of the ulna, which is one of the bones that travels up the forearm. 
Fracture at the Base of the Secondary Metacarpal: A fracture of one of the bones found at the base of the hand. 
Epidural Injection: An injection into the epidural space by the spinal cord, intended to reduce nerve inflammation.
Facet Joint Injection: An injection of a small mixture of anesthetic and an anti-inflammatory medicine into a joint. 
Hip Bursa Injection: An injection of pain relievers or steroid medicine to lessen discomfort caused by a hip bursa. 
Occipital Nerve Root Block: An injection of anesthetics and steroids into the occipital nerve root; commonly used to treat headaches. 
Spinal Cord Stimulator: An implantation neuromodulation device used to send electrical signals to areas of the spine.