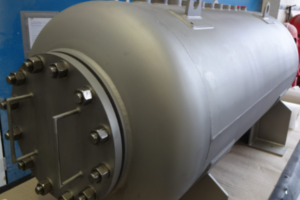 A Jury returned a verdict of $1,371,468.78 for a man who was severely injured after a commercial pressure vessel exploded at their workplace in Carlstadt, New Jersey. Our client, who worked as an industrial laborer, was knocked unconscious by the explosion. Davis, Saperstein & Salomon, P.C. Partner Marc C. Saperstein filed suit in The Superior Court of New Jersey, Bergen County, proved the man's employer and their insurance company were negligent in failing to safely manage and supervise their employees and equipment, and secured the client a $837,500 settlement.
Our client suffered injuries to his shoulders, legs, head, back, and neck, and was taken by ambulance to Hackensack Meridian Medical Center in Hackensack, New Jersey. He was diagnosed with right tibia and fibula fractures, depressed skull fracture, a cerebral bleed, and burns on his lower back. Furthermore, his head injuries led to changes in personality and losses in memory and attention. He underwent open reduction and internal fixation to treat his fractures, and a cranioplasty with debridement to treat his head injuries. After his treatment, the client remained in a comatose condition for three weeks. He was transferred to a rehabilitation facility for a month and completed courses of physical therapy and psychotherapy regularly to improve his condition.
Davis, Saperstein and Salomon, P.C. retained medical experts to author narrative reports proving the permanent nature of the client's condition. To assess the client's future employability and financial loss, Marc C. Saperstein retained a vocational economics expert who found that his injuries caused work-limitations, resulting in a loss of several hundred thousand dollars of future earning capacity.
Partner Marc C. Saperstein retained an engineering expert to determine the liable party responsible for the client's injuries, who found that the pressure vessel was significantly degraded and was not registered to the state's records. Our expert opined that the Defendants should have recognized the obvious risks and outdated condition of the pressure vessel, and that the accident would have been avoided if they followed state regulations by properly maintaining, repairing, and replacing the vessel. The experts' reports helped prove the client's entitlement to financial compensation for his medical bills, loss in income, and pain and suffering.
Despite the Defendants filing of an appeal in the Superior Court of New Jersey, Appellate Division, Davis, Saperstein & Salomon, P.C Partner Marc C. Saperstein continued in his fight and secured our client a $837,500 settlement.
Settlements are often limited by the total available insurance coverage. Insurance company adjusters and their lawyers often defend cases by claiming that a client was negligent and could have avoided being injured by arguing comparative negligence on the part of an injured client; or that their pain and suffering was caused by pre-existing medical conditions or prior injuries. Despite those defenses, the Davis, Saperstein & Salomon, PC lawyers won their client's injury claim. Each client's case is unique. Results may differ because of different facts, circumstances and available insurance coverage.
Call us now for a free and confidential case evaluation. We are also available 24/7 online at our website, www.dsslaw.com.  
Medical Glossary:
Cerebral Bleed: A type of bleeding that happens inside the brain, usually caused by a blood vessel bursting. It can lead to serious complications and requires medical attention.
Cranioplasty: A surgical procedure to repair or reconstruct the skull bone, often done to fix a defect or injury to the skull.
Debridement: A medical procedure to remove dead or damaged tissue, such as skin or bone, from a wound to promote healing and prevent infection. It is often done using special tools or solutions.
Depressed Skull Fracture: A break in the skull bone that causes a part of the bone to be pushed inward towards the brain, which can be dangerous and may require surgery to fix.
Fibula: A smaller bone in your leg, located next to the tibia. It helps support the tibia and plays a role in ankle movement.
Open Reduction and Internal Fixation: A surgical procedure where broken bones are put back into place (reduced) through a cut in the skin, and then held together with screws, plates, or rods (internal fixation) to help them heal properly.
Tibia: A large bone in your leg, also known as the shinbone, that connects your knee to your ankle.