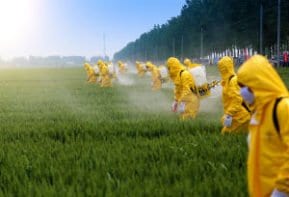 Davis, Saperstein & Salomon, P.C., is now reviewing claims against Monsanto. Evidence increasingly shows Monsanto may have known and hid the fact that exposure to the weed-killing herbicide Roundup can cause cancer.
If you or a loved one developed cancer after using Roundup, you may be eligible for compensation for your medical expenses, lost income, pain and suffering and other losses.
What Problems Are Associated with Roundup?
Roundup is a powerful herbicide. It kills virtually any plant that comes into contact with it. Large agricultural operations use the herbicide as well as homeowners tending to their lawns and gardens.
In 2015, Monsanto earned nearly $4.76 billion in sales and $1.9 billion in gross profits from its herbicide products. Most of those profits came from Roundup sales.
Monsanto maintains that Roundup is safe when it is used as directed. However, the International Agency for Research on Cancer (IARC) stated in 2015 that glyphosate – Roundup's active ingredient – is "probably carcinogenic to humans."
The IARC said evidence linked exposure to glyphosate to non-Hodgkin lymphoma. The IARC said glyphosate also caused DNA and chromosomal damage in human cells, and that there was convincing evidence that glyphosate could cause cancer in laboratory animals.
Who Can Be Exposed to Glyphosate?
Today, agricultural operations genetically modify crops such as corn, soybeans and cotton so they can tolerate glyphosate. As a result, farmers use Roundup in increased quantities across entire fields.
The IARC reports that glyphosate spreads in the air during spraying and can be found in water and in food. It has been detected in the blood and urine of agricultural workers, indicating absorption, the IARC reports.
Additionally, IARC states, the general population may be exposed to glyphosate through home use and foods in their diet.
Did Monsanto Fake Claims that Roundup is Safe?
Monsanto strongly defends Roundup and its primary ingredient, glyphosate. Monsanto has attacked the IARC and commissioned studies that suggest glyphosate poses no threat when used properly.
However, documents obtained as a part of product liability lawsuits against Monsanto and unsealed by the courts indicate that Monsanto falsified research that supports the safety of glyphosate. These documents include Monsanto's internal e-mails and e-mail traffic between the company and federal regulators.
The evidence suggests that individuals on Monsanto's payroll wrote research that was later attributed to independent academics. Other documents indicate that a senior official at the Environmental Protection Agency (EPA) quashed a Department of Health and Human Services review of glyphosate.
Evidence indicates that Monsanto learned of the IARC's impending assessment of glyphosate as a probable carcinogen and started its campaign to discredit the negative report months before its release.
Get Help from Our Roundup Cancer Lawyers
If you or a loved one developed non-Hodgkin lymphoma or another type of cancer after using Roundup, you may be eligible for compensation. Contact Davis, Saperstein & Salomon, P.C., to discuss your case.
We have successfully pursued product liability cases for more than 30 years. We have recovered more than $400 million for our clients.
Our lawyers have led numerous class action and mass tort cases. We have the resources it takes to stand up to corporations like Monsanto.
We can provide a free consultation. If we pursue a claim on your behalf or join ongoing litigation, we will not charge you for our services unless we recover compensation for you.
More Information About Roundup