New Jersey E-Scooter Injury Lawyer
It was not your fault.  People operating or riding E-scooters are entitled to the same respect, safety, and right of way under the law as others have while sharing a roadway.  You are not presumed to have done anything wrong or act negligently by the fact that you are operating or riding an E-Scooter.  An E-scooter operator or rider is given the same protection under the law as any other driver of a car, truck, bus, motorcycle, or bicycle rider from the acts of negligence and careless driving of another motorist.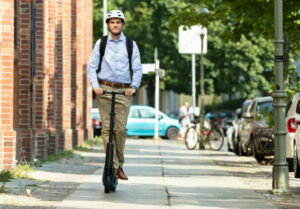 E-Scooters and similar machines have become a popular form of recreation and transportation in New Jersey. Unfortunately, a number of people who have taken to riding these scooters have been injured in accidents. If you have been hurt in an e-scooter accident that was caused by someone else, you may be entitled to be paid compensation for the harm you have suffered. You deserve to have our injury lawyers on your side that recognize and understand that the accident was not your fault.
Contact our firm today for a free initial case review with a New Jersey e-scooter injury attorney.