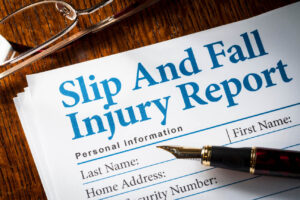 A car salesman slipped and fell on a piece of unsecured cardboard put in place by construction workers at his place of employment, leading to knee and back injuries. Davis, Saperstein & Salomon, P.C. partner Marc C. Saperstein proved that the property lessee and it's two contracted construction companies were negligent in the ownership, supervision, and control of the construction site, and secured a $2,897,500 settlement.
Our client worked on the second floor of a New York car dealership that was under renovation. Employees were forced to exit only through a rear door.  Construction workers turned off the lights on the first floor after they left the building. On the day of the incident, our client left the well-lit second floor to exit the building, finding himself in pitch-black on the first floor. Realizing the exit door was locked, he found his way to the side door, and in the process, slipped on a piece of unsecured cardboard, tripped over a nearby hazard and fell. He was taken to a local hospital by ambulance.
Our client suffered injuries to his knee and back, including a quadriceps tendon rupture in his left knee, which required surgery and kept him in the hospital for over a week. About a year later, that same left knee gave out, causing our client to fall and suffer the same injury in his right knee. He once again underwent surgery and remained in the hospital for over a week. The fall also left him with back pain and a herniated disc at L5-S1 and developed cauda equine syndrome, while he was treated with physical therapy and epidural steroid injections to the spine. The pain continued to intensify, and our client underwent an L5-S1 hemilaminectomy and discectomy. Post-surgery, he continued to experience pain and was advised to continue to seek treatment.
Davis, Saperstein & Salomon, P.C. partner Marc C. Saperstein and his team of New York premises liability attorneys retained both a vocational and an economics expert to determine our client's future financial losses. The vocational expert assessed his work simulations results, age, college education, and past work experience, concluding that he was unable to perform past relevant work, transfer his skills to other types of occupations, or find suitable employment. The economics expert evaluated our client's past income and determined his future dollar losses.
Economists and employability experts are commonly used in cases to determine future lost wages and the value of a lost career due to an injury.
Do you or someone you know have similar injuries or circumstances to this one? Our dedicated legal team of over 25 attorneys is here to help. Call now for a free case evaluation or reach out online and we'll call you back.
Medical Glossary:
Cauda Equine Syndrome: a rare disorder that usually is a surgical emergency; something compresses on the spinal nerve roots that require fast treatment to prevent lasting damage
Epidural Steroid Injections: a minimally invasive procedure that can relieve neck, arm, back and leg pain; delivers steroids via a needle
Hemi-Laminectomy Discectomy: a surgical operation where parts of spinal bones are removed
Herniated Disc: a portion of the disc, which acts as a shock absorber for the spinal bones, is pushed into the spinal canal
Quadriceps Tendon Rupture: an injury that occurs when the tendon that attaches the quadriceps muscle to the kneecap is partially or completely torn