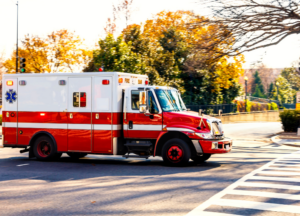 In Franklin Township, New Jersey, our client was driving on Route 57 when she was struck by another driver who had lost control of his vehicle. Davis, Saperstein & Salomon, P.C. partner Paul A. Garfield proved that the driver was negligent in failing to operate his vehicle in a safe manner, and ensured that our client received proper compensation in the form of a $539,347.92 settlement.
Our client was driving eastbound on Route 57, when she pulled over to the right shoulder to allow an ambulance to pass. When she attempted to re-enter the highway, she was struck front-on by a vehicle traveling in the opposite direction. The driver had lost directional control of his vehicle because he was traveling at an excessive speed.
Our client suffered severe injury to her right arm and leg. In her right arm, she was diagnosed with a distal radius fracture and a radioulnar dislocation. In her leg, she suffered a Grade 3A open tibia and fibula fracture, and a fracture of the interior pole of her patella. To treat her injuries, she received an open reduction internal fixation of the right tibia and fibula with repair of the patella fracture, and an external fixator was applied to her right wrist. Following treatment, she attended occupational therapy to treat her arm and physical therapy for her leg.
Her injuries significantly deteriorated the quality of her life. Davis, Saperstein & Salomon, P.C. partner Paul A. Garfield fought for our client to receive proper compensation for her injuries and suffering, and secured our client a $539,347.92 settlement.
Settlements are often limited by the total available insurance coverage. Insurance company adjusters and their lawyers often defend cases by claiming that a client was negligent and could have avoided being injured by arguing comparative negligence on the part of an injured client; or that their pain and suffering was caused by pre-existing medical conditions or prior injuries. Despite those defenses, the Davis, Saperstein & Salomon, PC lawyers won their client's injury claim. Each client's case is unique. Results may differ because of different facts, circumstances and available insurance coverage.
Call us now for a free and confidential case evaluation. We are also available 24/7 online at our website, www.dsslaw.com.
Medical Glossary
Distal radius fracture: A break in one of the two forearm bones.
Radioulnar dislocation: The radioulnar joint located in the forearm is displaced.
Grade 3A open tibia and fibula fracture: A break in the tibia and fibula bones, such that the bones are visible.
Fracture of the interior pole of the patella: A break of the kneecap bone.
Open reduction internal fixation: A surgical procedure that intends to repair compound fractures or severe fractures.
External fixator: A surgical treatment in which rods are screwed into the body and attached to an external object to stabilize the injured body part.