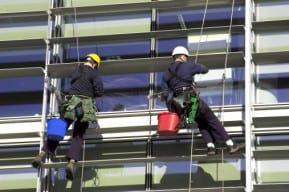 New Jersey and New York Lawyers Representing Scaffolding Accident Victims
Construction sites are dangerous places. Workers are often climb to dangerous heights on scaffolding that may have been improperly installed. Both state and federal laws, including the New York Labor Law § 240 are in place to protect workers and site visitors from harm, but they simply cannot prevent every possible scaffolding accident scenario.
At the New York and New Jersey law offices of Davis, Saperstein & Salomon, P.C., we have assisted construction accident injury victims and their families since 1981.
Contact our offices in Teaneck, Colonia, Edison Area or New York City to learn how to protect your rights and seek financial recovery after a scaffolding accident. We offer free initial consultations with experienced personal injury attorneys.
Workers' Compensation Claims
Like many construction accidents, a scaffolding accident often results in serious injury or accidental death. If you or a loved one was hurt in a scaffolding accident, you may be entitled to recover financial money damages from contractors, scaffold contractor and project managers in addition to workers compensation for your injuries. Workers' compensation will cover medical expenses and a portion of lost wages.
Third-party Claims (claims against others than your employer)
In a scaffolding accident, your employer may not be the only responsible party. You may also be able to pursue additional damages for injuries or death in a scaffolding collapse or fall caused by:
Ladder accidents
Falling debris or equipment
Forklifts, cranes, or construction trucks
Unsafe working conditions
Scaffolding design defects or manufacturing flaws
In New York, Labor Law § 240 may entitle you to additional compensation, even if you may have contributed to the accident or are uncertain of how the accident occurred.
Launching a Detailed Investigation into Your Claim
We have the experience and resources needed to determine the cause of a scaffolding accident. We launch a detailed investigation into events leading up to, during, and following the incident. We consult with product engineers, medical experts and other specialists to build a case against all potentially negligent parties. Our firm presents your case using cutting-edge courtroom technology that clearly illustrates why you are entitled to compensation for injuries, pain and suffering, as well as for changes to your quality of life.
Contact Our Legal Advocates – 1-800-LAW-2000
Contact us at our New Jersey or New York City offices for a free initial consultation to discuss your situation.
Translators Available – Home and Hospital Consultations Available – No Fee If No Recovery