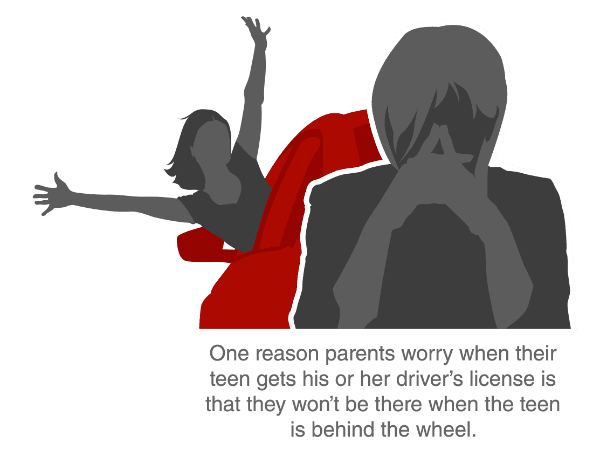 One reason parents worry when their teen gets his or her driver's license is that they won't be there when the teen is behind the wheel. They fear that the teen could easily make a mistake or use poor judgment that results in a serious car accident.
A recent study of teen driving behavior shows that parents have good reason to be concerned.
Teen drivers regularly engage in the kinds of careless and reckless driving behaviors that cause terrible car accidents every day, the AAA Foundation for Traffic Safety reports in the study, "Using Naturalistic Driving Data to Assess the Prevalence of Environmental Factors and Driver Behaviors in Teen Driver Crashes."
Study Shows Teen Drivers Engage in Dangerous Behavior
For the study, the AAA Foundation used in-car video cameras to analyze thousands of crashes involving teen drivers. Researchers examined behaviors and potential contributing factors in the seconds leading up to the accidents.
In about half or more of all teen driver crashes studied, the young driver engaged in some kind of dangerous behavior just prior to the crash. For instance: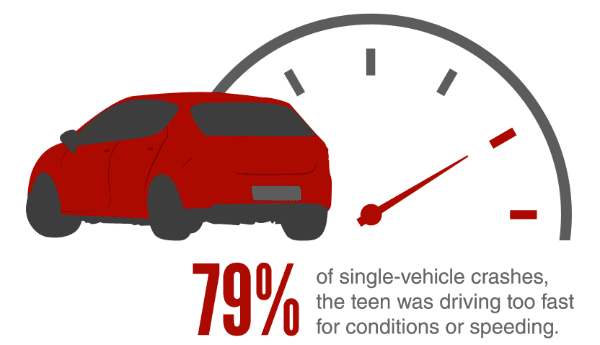 In 79 percent of single-vehicle crashes, the teen was driving too fast for conditions or speeding.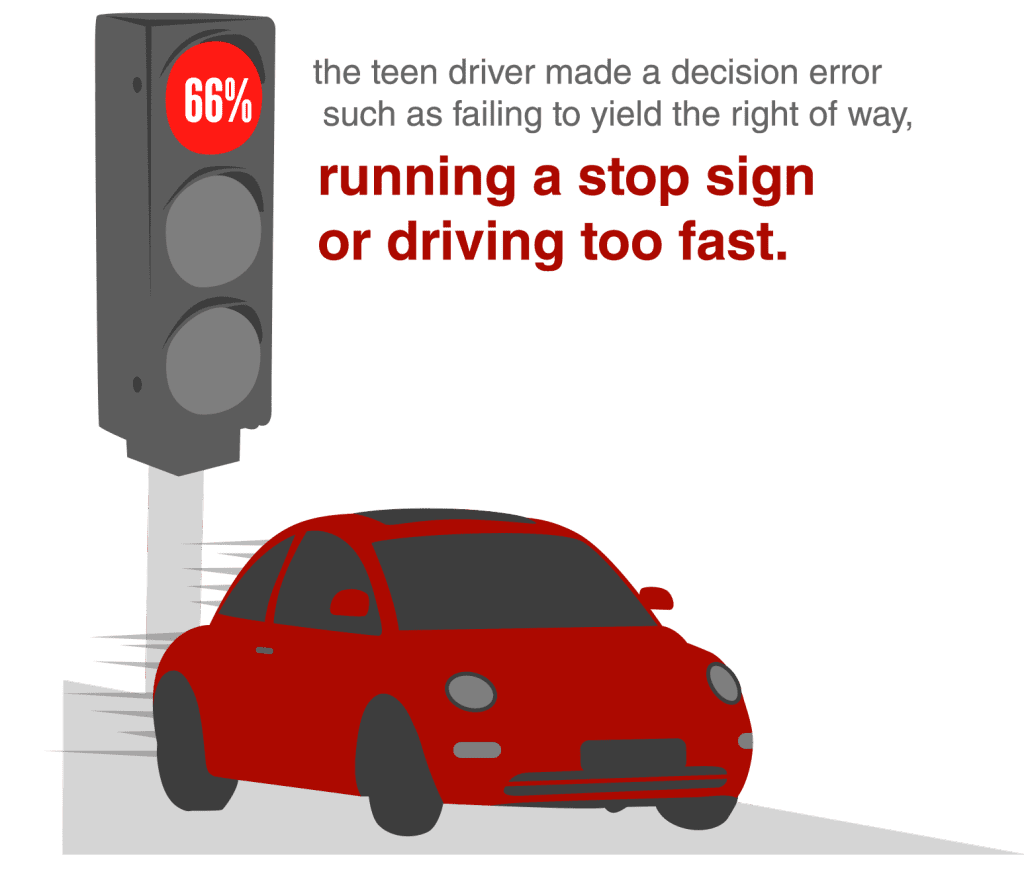 In 66 percent of all crashes, the teen driver made a decision error such as failing to yield the right of way, running a stop sign or driving too fast.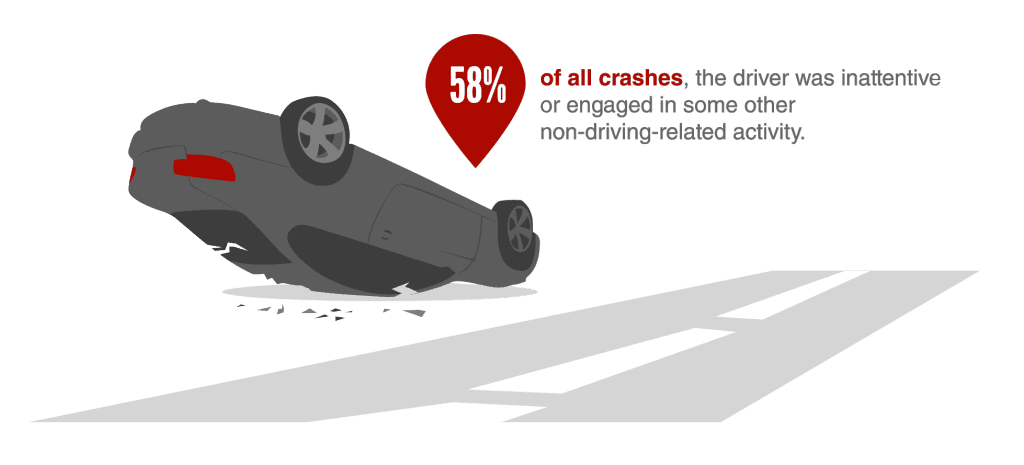 In 58 percent of all crashes, the driver was inattentive or engaged in some other non-driving-related activity – in other words, driving distracted. This behavior contributed to:

89 percent of road-departure crashes
76 percent of rear-end crashes
51 percent of angle crashes
44 percent of loss-of-control crashes.

In 43 percent of angle crashes (also called side-impact accidents or T-bone collisions), the teen driver failed to yield to another vehicle.
Teens were found to have been following too closely in 36 percent –more than one third – of rear-end crashes.
According to the AAA Foundation, 58 percent of teens were distracted at the time of their crash. This indicates a much higher incidence of distracted driving among teens than the federal government's National Highway Traffic Safety Administration (NHTSA) regularly reports.
According to the AAA Foundation, the NHTSA reports that 14 percent of all crashes are caused by distracted driving. The NHTSA states that 10 percent of all drivers between ages 15 and 19 involved in fatal crashes are distracted.
Types of Distracted Driving by Teens
The most frequent potentially distracting behaviors among teen drivers analyzed in the AAA Foundation study included:
Talking to or otherwise interacting with a passenger 15%
Visibly using a cell phone 8%
Looking at or manipulating something out of camera view 4%
Two telling points about teens engaged in distracted driving stand out:
In more than half of the rear-end crashes involving cell phone use that were looked at by researchers, the teen driver exhibited no reaction at all before impact.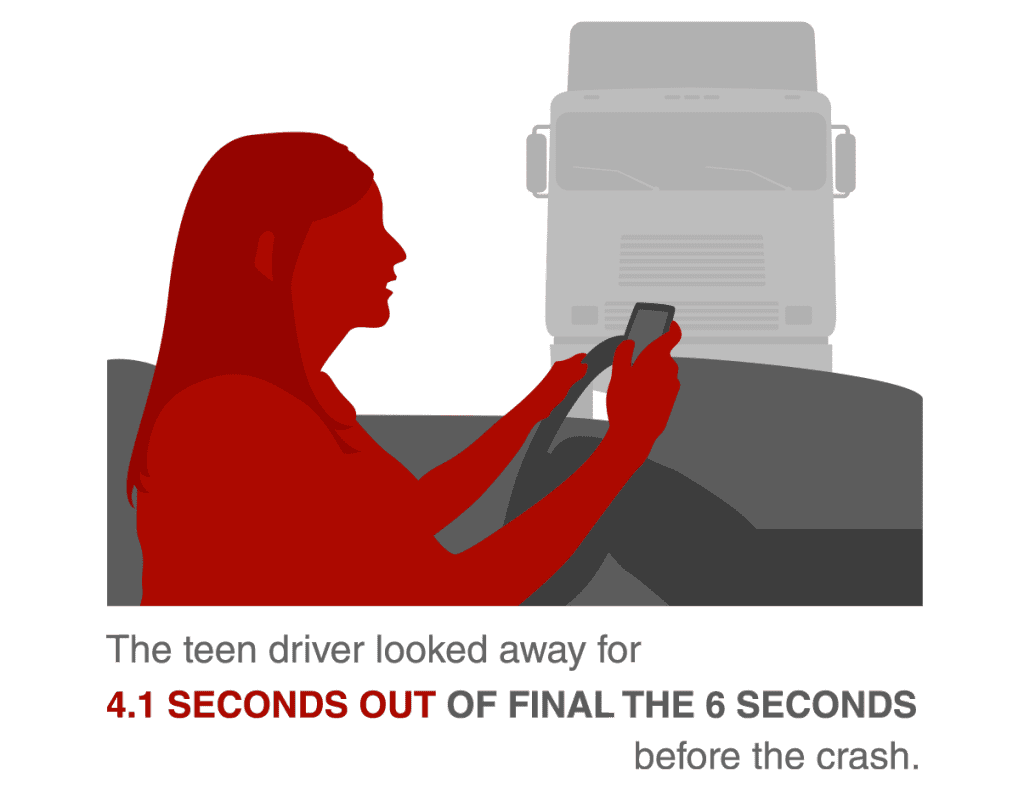 Drivers operating or looking at cell phones looked away from the road ahead of them excessively. In fact, on average, the teen driver looked away for 4.1 seconds out of final the 6 seconds before the crash.
One positive fact reported in the study was that the teen driver was seen wearing a seatbelt in 93 percent of all crashes.
Teens Need to Learn Accountability for Distracted Driving
The AAA Foundation suggests that the results of its study can be used to develop education, training and changes in technology that are aimed at reducing teen drivers' crash risk.
As personal injury car accident attorneys, we frequently advise clients that teen drivers can and should be held accountable when they cause car accidents. Errors happen and are part of the learning process. Teaching that errors have consequences is an important part of learning as well.
Beyond educating teen drivers by holding them accountable, we believe people who have been injured by negligent drivers of any age deserve to be compensated for their losses.
If you are the parent of a teen driver, we urge you to discuss this AAA Foundation study with him or her. You should also remind your teen that the victim of any auto accident they cause is very likely to be represented by an attorney who will be intent on making the client financially whole.
If you have been in a car accident caused by a negligent teenage driver, contact Davis, Saperstein & Salomon, P.C., today for a free discussion of how we can help you.
About the Author
Latest Posts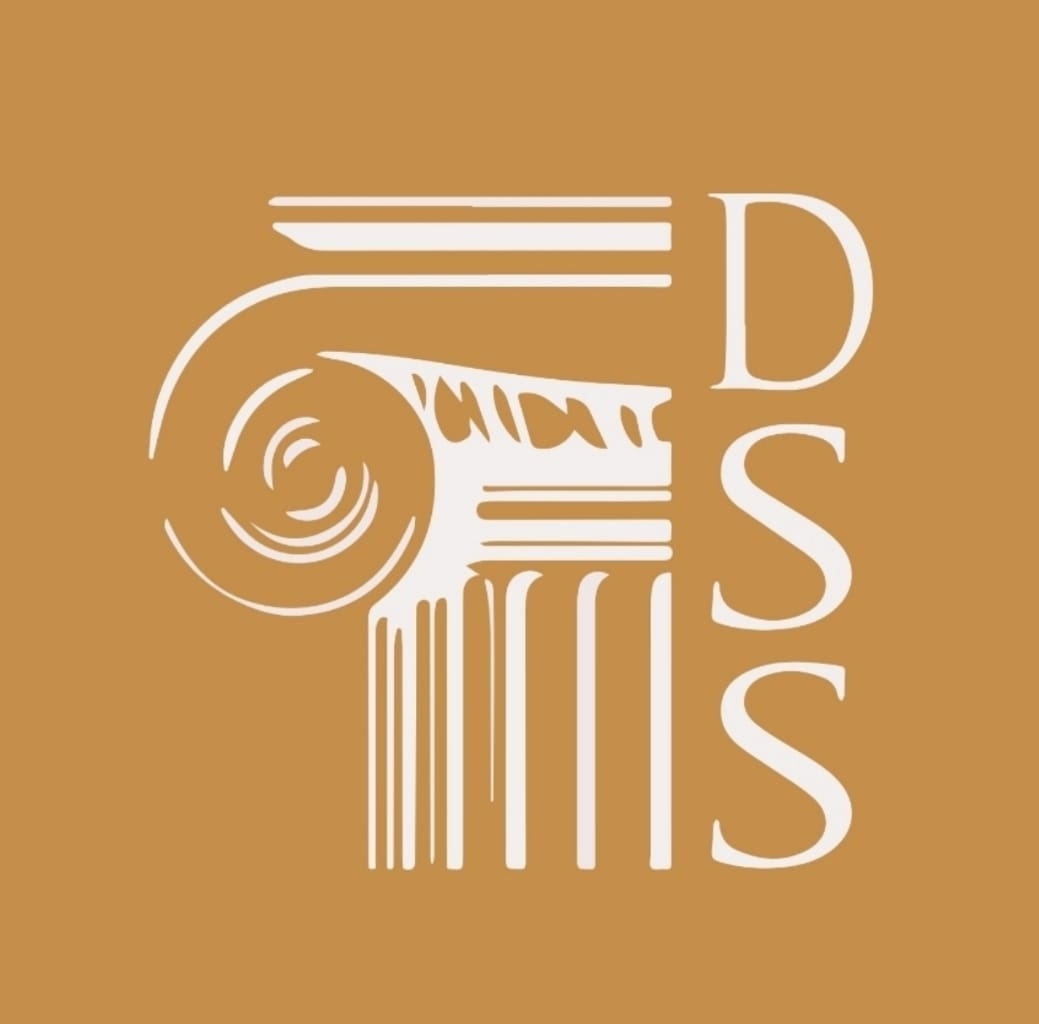 Since 1981, the compassionate personal injury lawyers at Davis, Saperstein & Salomon have been delivering results for our deserving clients. We are solely committed to helping injured individuals, never representing corporations. No matter how large or small your personal injury case is, you can trust that it is important to us.