Wrongful Death Trucking Claims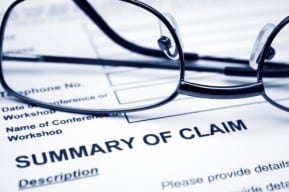 If you have lost a family member in an accident caused by a negligent truck driver, the last thing on your mind should be money. Unfortunately, bill collectors don't feel that way. While no one can ever truly get their life back to normal after such a loss, a lawsuit can help to cover your mounting expenses, including medical bills and funeral costs.
The truck accident lawyers of Davis, Saperstein & Salomon, P.C., offer our sincere condolences to anyone whose loved one has died in a truck accident through no fault of their own. We are here to protect your rights and pursue compensation on your behalf.
Our firm represents truck crash victims and their families throughout New Jersey and New York. We are available to meet with you about your case. To schedule a free consultation, call Davis, Saperstein & Salomon, P.C., at 1-800-LAW-2000 today or use our online form.
What Is Covered in Wrongful Death Claim?
New Jersey's Wrongful Death Act does not allow family members to recover for grief or sadness about the loss of a loved one. However, actual financial losses are generally covered. These losses include future wages that a loved one would have been expected to earn.
If the deceased provided financial support for the family, a court will figure out what that person should have earned over the rest of his or her lifetime. The court will then award a portion of those wages to the family.
New York treats wrongful death damages similarly.
Keep in mind: You cannot sue for your own suffering due to the loss of a loved one. However, your relative's claim for pain and suffering does not die with them. Instead, it passes to their estate along with claims for medical expenses.
Though it is unpleasant to think about, your loved one may have experienced pain and suffering from the truck accident while still alive. If this can be proven in court, then you may be able to recover pain and suffering damages as well.
Damages may also be recovered for loss of companionship, guidance and services. This can include things such as assisting in childcare and providing other parental or spousal support and services. If necessary, Davis, Saperstein & Salomon, P.C., will bring in expert economists to help determine the value of these services so that you can get the recovery you are entitled to receive. These damages may be available in both New York and New Jersey.
Negligent Infliction of Emotional Distress in Truck Accident Cases
In some cases, people who witness a trucking accident may be able to recover damages under the legal doctrine of negligent infliction of emotional distress (NIED). This legal claim is allowed under very specific conditions.
Under New Jersey law, four requirements must be fulfilled:
There must have been a death or serious injury caused by the negligence of a defendant
The injury must have been to a family member or spouse
You must have actually observed the accident leading to the injury
This observation must have led to severe emotional distress.
A NIED claim can be hard to prove. Sometimes, there may be additional requirements.
In New York, for example, you would need to show that you were close enough to the truck crash to have feared that you would also be injured. This is known as the "zone of danger" requirement.
Why Our Law Firm Is Dedicated to Helping Families of Truck Accident Victims
Marc C. Saperstein, a partner with the firm of Davis, Saperstein & Salomon, P.C., has extensive experience with representing people and families harmed by truck accidents. In his career, he has secured millions of dollars in verdicts and settlements on behalf of victims' families.
Mr. Saperstein is a past president of the Association of Trial Lawyers of America (New Jersey Chapter), and he is a Governor of the National Association of Personal Injury Trucking Lawyers Association. He regularly lectures to other lawyers about trial techniques and tactics.
He is licensed to practice in New York, New Jersey and Georgia.
Mr. Saperstein's cases have involved a wide range of issues, including:
Negligent hiring
Poor maintenance
Improper training
Jackknife accidents
Loading and unloading accidents.
For more than 20 years, Mr. Saperstein has concentrated his practice on catastrophic and serious injury cases, including wrongful death cases arising out of truck accidents in New Jersey and New York.
He originally developed and refined his truck accident investigation and litigation skills when his personal paralegal, Michele Presbruhi, lost her life due to a lack of maintenance of a car transportation trailer that caused a tire to roll off and crash through her windshield. To honor Michele's memory and prevent future accidents of the same kind, he has since focused his attention on the details of truck accident investigation and litigation.
Our Truck Accident Lawyers Want to Assist with Your Wrongful Death Claim
Since 1981, the trucking accident litigation group at Davis, Saperstein & Salomon, P.C., headed by Marc. C Saperstein, has worked to help people throughout New Jersey and New York who have lost loved ones in truck accidents. Call us today at 1-800-LAW-2000 or use our online form to speak with a lawyer today and learn more about what we can do for you. Our initial consultations are always free.