Car Accident Lawyer in Edison, New Jersey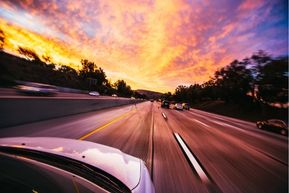 Each year, tens of millions of people pass through Edison, New Jersey as they drive on or near the New Jersey Turnpike, I95, I287, or the Garden State Parkway. Over 100,000 people live in Edison. For that reason, too many people end up in JFK Hospital from a car accident or MVA collision. Edison borders on the Union County town of Colonia, where one of New Jersey's premier personal injury law firms, Davis, Saperstein & Salomon, P.C., is located.
The law firm has a history of having an office servicing Middlesex County, NJ, and its residents since 1986. Because of Edison's location, the Middlesex County Courthouse is often busy with car, truck, and bus accidents that occur on the Turnpike, Parkway, or 287. Drivers on county roads such as Routes 27 and Route 28 have seen their fair share of car crashes as well.
Many accidents involve a bus, tractor-trailer, or truck, but most collisions involve a driver or passenger in a small car or motorcycle. Unfortunately, they usually suffer serious injuries such as arm and leg fractures, neck, back, and spinal injuries, or even brain injuries. Aside from physical injuries that may require visiting the ER at Edison's JFK Hospital, their lives have been complicated by emotional distress, pain, and lost income. Let's face it…it's stressful being involved in an MVA.
Types of Car Accident Claims We Handle 
The Certified Civil Trial Attorneys at Davis, Saperstein & Salomon, P.C. have represented thousands of people who were injured in all types of car accidents. Our injury lawyers have over 40 years of experience helping people sue for money because of their injuries, pain, suffering, inconvenience, lost income, and emotional distress caused by accidents involving:
Head-on collisions
Pedestrian accidents
Intersection accidents
Rear-end hits
Speeding
Drunk or stoned drivers
Loss of control due to snow or ice
Careless lane changes, cut-offs, or sideswipes
Failure to yield accidents
Lyft or Uber ridesharing accidents
Rollover accidents
Distracted driving accidents
Drunk driving accidents
Workers' compensation car accidents
From our 45 years of practicing law as experts in injury law, the lawyers at Davis, Saperstein & Salomon, P.C. represented thousands of people and families suffering an injury or loss caused by a careless or reckless driver. We know that the collision that caused the car crash was no accident… it was negligence – negligence caused by another driver's careless, reckless, and irresponsible driving. As a result, over 40,000 people and families made a decision to call upon the partners and lawyers of Davis, Saperstein & Salomon, P.C. to sue on their behalf some of the biggest and most powerful car insurance companies – such as GEICO, Allstate, State Farm, New Jersey Manufacturers, and Liberty Mutual Insurance Company – for money damages because of personal injury or wrongful death. Our results speak for themselves.
People often search online for the best New Jersey car accident lawyer, only to find out-of-state lawyers from as far away as Florida in their results. Davis, Saperstein & Salomon, P.C., being an injury law firm founded and headquartered in New Jersey, understands the diverse population of Edison – and more importantly, the thinking and mindset of New Jersey's Middlesex County jurors. In fact, some of the firm's biggest multimillion-dollar settlements were won on behalf of Middlesex County families or people injured in Edison.
Here's What You Should Expect from Your Lawyers
Give you the advice, counsel, and guidance you need to win your case.
Accept your case with no legal fees unless the case is won.
Protect you from aggressive insurance company investigations.
Investigate your Edison, NJ car accident.
Reconstruct your car accident.
Assist in finding qualified and caring medical care.
Help with property damage issues.
Communicate with insurance companies.
Arrange for medical care and medical bill payments.
Assist with income continuation.
Protect you from your accident-related creditors.
Calculate the full extent of your losses.
Begin settlement negotiations.
File a lawsuit and sue for monetary damages for pain, suffering, and income loss.
Take depositions and sworn statements from defendants.
Arbitrate your case.
Prepare your case for settlement and trial.
Go to trial and take a verdict if they don't pay you fair value.
Provide justice by putting as much money in your pocket as possible.
For many of our clients, this is their first experience hiring a lawyer. As an educational-based law firm, we take pride in explaining to our clients each and every step of the process so that a client can make the best decisions for the right reasons. Many of those injured who live or work in Edison are non-English speakers from places as far away as India, Pakistan, South or Central America, or even Korea. They may need interpreters to explain to lawyers, judges, and even juries how their car accident changed their lives. Being a non-English speaker is no handicap when bringing a case in Middlesex County, New Jersey because the court system is well equipped with translators who translate Indian languages, Spanish, Korean, and other languages into English.
Steps to Take After an Edison, NJ Car Accident
Immediately after an accident, you should call the police, get the other driver's information, and get medical attention. The next thing you should consider is hiring an experienced injury lawyer who is certified by the Supreme Court of New Jersey as a civil trial attorney. Less than two percent of all New Jersey lawyers are certified as civil trial attorneys. Insurance companies fear lawyers that they know will take them to court if necessary. This threat generally affects how much an insurance company is willing to pay you for your accident. Your attorney will handle everything about your personal injury case so all you need to worry about is getting well.
If you do not immediately hire an attorney, you or someone should gather evidence from the accident scene. It's best for you to make notes of everything you recall about the accident. Take pictures of the other driver's license, your property damage, and property damage to all other cars. Videos could significantly help your case when you sue for money damages. If you did not hire a lawyer, you should find out whether any traffic cameras or other nearby cameras may have captured the crash. These notes, pictures, and videos could significantly help your case down the line when you seek money as compensation.
To analyze your personal injury claim, the injury lawyer you hire will review or get a copy of the official police report, known as the "State of New Jersey Police Crash Investigation Report NJTR-1." They will also get the medical records describing your accident-related injuries and doctor and hospital bills from your medical treatment. Your lawyer will also find out how much insurance coverage is available for your medical care and compensation for your pain, suffering, and financial losses.
If you or a family member suffered injuries in a car accident that occurred in Edison, New Jersey, you may want to see the police report before consulting with an injury lawyer. If that's the case, you will likely need to visit the Edison Police Department at 100 Municipal Boulevard, just off Route 27, to get a copy of the official police report. The police report will contain all the information collected by the investigating police officer. But you need to know that the numbers on the top, bottom, and sides of the report provide useful and important information as well. Make sure you ask for the overlay reference grid that explains the numbers on the top, bottom, and sides of the police report. If, however, you were injured in a car accident in Edison on the Garden State Parkway, I95, the New Jersey Turnpike, or Route 287, you may need to contact the New Jersey State Police in Woodbridge, NJ for your report. But for $13, a copy of your report can be purchased online.
If your vehicle was involved in the crash and was damaged, look not only for exterior damage but also for internal bumper damage. You should also get reliable estimates of the repair costs from a local Edison auto body shop. Internal damage is often hidden by flexible bumper covers. A skilled injury lawyer will require all police reports, property damage photographs, and estimates to evaluate and prove the cause of the car accident and the mechanism of injury to your neck, back, and body.
Knowing these facts, your injury lawyer can then give you the advice and counsel you need going forward. In the meantime, never talk about the accident on any social media forum.
Avoid talking about your accident on Facebook, Instagram, TikTok, or any social media forum as well. Any insurance company representative or defense attorney involved in your case will look at your social media accounts for evidence they can use to contradict or disprove your claim.
A skilled Edison car accident lawyer can guide you through the rest of the process to win an out-of-court settlement on a percentage basis based on the amount of your final settlement award. If necessary, your Davis, Saperstein & Salomon, P.C. expert injury lawyer will file a lawsuit and fight for the money you deserve.
Medical Care and Medical Bills for your New Jersey Car Accident Injuries
Your lawyer will obtain copies of the records that were created when you saw medical professionals after the crash. Your medical records will describe your injuries, and the bills that accompany them will outline your treatment costs. Be certain to mention and discuss all accident-related injuries with all of your treating physicians and surgeons.
You should disclose all prior injuries and medical conditions that previously affected the injured body parts. Often, having a prior history of injury or medical conditions can increase the value of your claim if handled properly.
You must continue medical care as prescribed by your doctors. Do not skip any doctors or physical therapy appointments. Insurance companies will use a gap in treatment as proof that your injury was not serious as an attempt to minimize or reduce the value of your personal injury case.
New Jersey is a no-fault insurance state that requires all cars registered in New Jersey to be insured. Although it may sound weird, the defendant does not pay your medical bills. Depending upon applicable coverage, your medical bills will be paid by you or your household blood-related relative's auto insurance carrier as part of their policy's personal injury protection coverage. These benefits are called PIP benefits. You may have as little as $15,000 or as much as $250,000 in PIP medical coverage, depending upon the PIP insurance coverage purchased. If the car you were in at the time of the accident was registered in a different state and was insured by a company that writes auto insurance policies in New Jersey, you may be entitled to $250,000 in PIP medical benefits. In either event, you should file a PIP application with that insurance carrier.
A skilled car accident lawyer can guide you through the rest of the process to win compensation for your physical and financial losses. They will gather the evidence needed to fight for the full value of your auto accident-related injuries and win your case.
Lost Pay, Salary, and Income
Automobile accidents cause stress and uncertainty as you wonder how your injuries will affect your ability to earn a paycheck to support your family. Talk to a skilled Edison car accident injury lawyer from Davis, Saperstein & Salomon, P.C. today about how you could obtain compensation for your losses.
Temporary benefits can include income continuation from the applicable personal injury protection no-fault insurance policy (PIP), depending upon the coverage purchased, or from New Jersey State Disability. For out-of-state drivers or passengers injured, New Jersey PIP may provide temporary income continuation benefits as well for up to a year.
Davis, Saperstein & Salomon, P.C. handles all types of accident claims, representing clients in personal injury cases throughout New Jersey and New York City. Put our experience to work for you. Contact our office today for a free consultation.
Loss of Life and New Jersey Fatal Car Accident Statistics
In a recent year, the number of motor vehicle accident fatalities in New Jersey was the highest since 2007. Nearly 700 people died in 656 accidents. The year before, there were 697 fatalities from 667 accidents.
This was a nearly 20 percent increase from the year prior, when traffic accidents caused 587 fatalities in New Jersey. Many consider the pandemic as the cause of this increase. While the smaller percent increase recently was a considerable drop-off from this dramatic jump in fatalities, it still represents an unwanted, dangerous trend.
People who lost loved ones that lived in the Middlesex County Township of Edison will need to be qualified by the Middlesex County Surrogate as either an Executor or Administrator of the estate of the person who died from a motor vehicle accident in order to sue the driver who caused the accident. Relatives may sue for their financial losses as part of a wrongful death case. A person who was the husband, wife, legal spouse, parent, or child of a person killed in an accident would need to apply to the Middlesex County Surrogate to be appointed as the Administrator ad Prosequendum to hire the appropriate New Jersey wrongful death lawyer to prosecute the wrongful death claims.
You can depend on Davis, Saperstein & Salomon, P.C. to work hard and diligently to help you win the compensation you deserve. We will fight stubborn insurance companies like Liberty Mutual, New Jersey Manufacturers, Allstate, and GEICO who are reluctant to pay you the full value of your losses. Our legal team of expert accident lawyers can communicate and negotiate with insurance companies while you take the time necessary to heal and focus on other important personal matters. And if they don't settle for the right amount of money, we will take them to court and have a Middlesex County Jury decide.
Auto Insurance, PIP Affecting Edison Car Accidents
If you're a driver or passenger injured in a car accident in New Jersey, you have the right to file a claim under your personal injury protection (PIP) coverage. These benefits are available without having to prove who was at fault for the accident. An auto accident lawyer in Edison from Davis, Saperstein & Salomon, P.C. can help you file this claim with your insurance company.
If another person was at fault for the accident, you might be eligible to file a personal injury lawsuit to recover the money representing your financial losses and money you need to cover your injuries and future losses. You can sue the other driver for unpaid expenses such as medical bills and lost wages. However, whether you can also pursue compensation for subjective losses such as pain and suffering may depend on which type of insurance policy you have.
Your right to sue for pain and suffering may depend upon the tort threshold that applies to you. With a Basic policy, you will have a Limited Right to Sue. The Basic policy is available for those on public assistance with little or no assets. With the Limited Right to Sue, you cannot sue the at-fault party unless one of your injuries affects you permanently. For example, a ruptured or herniated or bulged disc in your neck or back or a tear in your knee or shoulder is a permanent injury. If you have a Standard policy, you can choose either an Unlimited Right to Sue or a Limited Right to Sue. The Unlimited Right to Sue policy allows you to sue the at-fault party for non-economic losses regardless of the severity of your injuries.
The Limited Tort or Limitation on Lawsuit Threshold does not apply if the other negligent vehicle was a commercial vehicle such as a bus, truck, construction vehicle, or 18-wheeler. If a truck causes your injuries, you can sue for all injuries, whether permanent or not.
An experienced New Jersey car accident attorney can review your case and prove that the injuries you suffered are permanent and qualify to break the Limitation on Lawsuit Threshold and determine which options for compensation are available to you. If you do not own or drive a car, the auto insurance policy of any blood-related relative that you live with may determine if the Limitation on Lawsuit Threshold applies to you.
Why Hire an Edison Car Accident Lawyer After a Crash?
If you were hurt in a car accident caused by someone else, working with an experienced personal injury attorney is in your best interests. You should not have to pay for your losses if they were someone else's fault. A skilled attorney knows how to pursue the money you need.
When an attorney at Davis, Saperstein & Salomon, P.C. represents a New Jersey accident victim on a contingency fee basis, you pay no legal fees unless you receive money from a settlement or an award. Our percentage is paid at the end of the case as a percentage of the money won from the defendant's insurance company. You will not be required to pay any money in advance. And if the case is lost, you will not pay a legal fee to your lawyers.
Insurance companies like GEICO, Selective, USAA, and Plymouth Rock have the primary goal of turning a profit. Maximizing profits means paying as little as possible for any claim. As a result, insurance company lawyers work extra hard to achieve this financial goal. Our experienced car accident attorneys know how to avoid and fight insurance company tactics meant to reduce your settlement.
An Edison car accident lawyer from Davis, Saperstein & Salomon, P.C. could provide the following services:
Investigating Your Edison, NJ Car Accident
Insurance companies act to protect their own interests. They will try to present evidence that lowers the value of your claim. To fight this, we will gather evidence from the scene, interview witnesses, and consult the experts necessary to help you pursue compensation. We will build the strongest case possible based on the evidence available.
Qualified injury lawyers are skilled investigators and will conduct a thorough and complete investigation of your car accident, as well as uncover the true amount of insurance coverage available. This includes available Uninsured and Underinsured Motorist Insurance coverage above the defendant's insurance coverage to add more value to your claim.
Calculating the Full Extent of Your Losses
Our team will review your complete medical file and any documentation of your expenses. We can also enlist any necessary experts to assess the full extent of your losses and determine the value of your claim.
Filing All Necessary Paperwork and Legal Documents
If you pursue compensation after an accident, there are several filing deadlines you must meet. Your Davis, Saperstein & Salomon, P.C. attorney is well-versed in all the applicable claims and court deadlines and will timely file all necessary documentation in your car accident case. In some cases, the filing deadline can be as little as 90 days from the accident date.
Preparing Your Case for Settlement and Trial
Auto Insurance companies that do business in New Jersey know that the attorneys at Davis, Saperstein & Salomon, P.C. are ready to go to trial. The insurance companies know our reputation – that we mean it when we say we'll take them to court. This gives us an advantage at the negotiating table.
Going to Trial
Insurance companies fight claims in court regularly with an able arsenal of lawyers experienced in defending personal injury car accident claims. If an insurance company with potential liability for paying for your losses refuses to settle your claim, our team of lawyers will go to court to stand up to them and fight for you.
Being represented by a skilled expert injury partner or lawyer of Davis, Saperstein & Salomon, P.C. protects your interests throughout the entire claim, including the settling or litigating of your claim.
Get Help from Our Car Accident Attorneys in Edison, New Jersey
If you were hurt in a car accident that was someone else's fault in Edison, New Jersey, the knowledgeable attorneys at Davis, Saperstein & Salomon, P.C. can pursue compensation for your injuries. We offer free consultations to help you learn about your legal rights at no risk or cost.
Our attorneys have helped those injured in motor vehicle accidents recover compensation for over 40 years. Our firm has secured more than $800 million in verdicts and settlements for clients throughout New Jersey and New York.
We have locations in New Jersey and New York City to serve you – but we can also consult or intake your case by phone, Facetime, Zoom, Teams, Skype, or at a location convenient for you. Contact our New Jersey Middlesex County team of Edison car accident lawyers at Davis, Saperstein & Salomon, P.C. today.