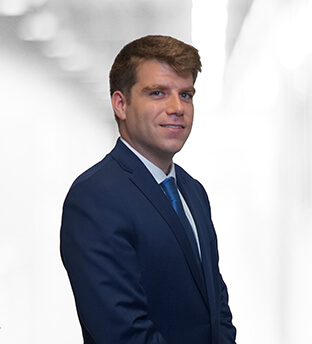 Jeffrey E. Salomon, Esq., is an associate at Davis, Saperstein & Salomon P.C. Jeff has dedicated his law practice to representing the rights of those injured due to the negligence of others. Jeff serves in the firm's personal injury litigation practice group and regularly appears in courts throughout New Jersey for jury trials, arbitration and motions. Jeff concentrates his practice on cases involving motor vehicle, trucking and bus accidents as well as premises accidents at each stage of litigation.
Jeff attended Suffolk University in Boston, Massachusetts, where he earned his Bachelor of Science in Business Administration and graduated cum laude. He then went on to earn his Juris Doctorate from Suffolk University Law School, where he graduated with an honorable mention for his outstanding oral advocacy skills.
According to colleagues, Jeff is extremely passionate about helping people and always perseveres to get his clients the highest recovery for their injuries. Jeff is known for his excellent people skills and is "genuinely in the game to make a difference in his clients' lives." You can count on him to "go the distance" to make sure his clients are satisfied with their legal representation —including keeping them informed and prepared for any and all matters that might arise over the course of their case.
Jeff is invested in sharing his experiences and knowledge with the legal community. At the 2018 Annual Boardwalk convention, Jeff lectured about a case in which he participated as trial counsel for a case that became known in the legal community for returning a $795,000 verdict for a client who was initially offered just $6,000. Jeff also enjoys giving back to the community by inspiring and coaching younger generations about career opportunities in the law. Since becoming a lawyer, Jeff has participated in a number of local career days for high school students and at the Boys and Girls Club of Jersey City that are interested in legal careers.
Outside practicing law, Jeff enjoys hiking, camping, snowboarding, skateboarding and playing guitar.