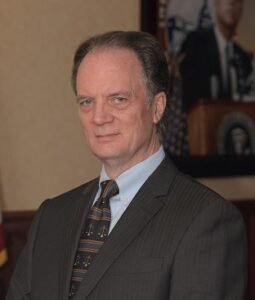 Jeremiah W. Larkin, Esq. is a Senior Associate at Davis, Saperstein & Salomon.  He has been licensed to practice law in New Jersey since 1985.  He obtained his BA in Political Science with high honors from Rider University.  He obtained his JD from Western New England University School of Law.  He is a member of the New Jersey Association for Justice, and has lectured for that organization.
Jeremiah W. Larkin, Esq. has spent his entire career in personal injury civil litigation. At the beginning of his career he worked for a small firm doing slip and fall defense work for supermarkets and other retail stores.  He then spent over 30 years working as a Senior Trial Attorney in the house counsel office for a major insurance carrier.  In that position Jeremiah represented both the interests of the insurance company and its customers in cases arising from car crashes, assaults, and falls.  He was responsible for files from the start of litigation through trial or settlement.    He brings that vast experience and an insider's understanding of insurance claims and defense attorneys to his clients here at Davis, Saperstein and Salomon.  Jeremiah is committed to helping his clients understand the litigation process, and to helping his clients get the best results possible.
Jeremiah is the proud father of 2 adult daughters, and has been married to his wife since 1990.  He and his wife enjoy attending the New Jersey Symphony and Irish music concerts.