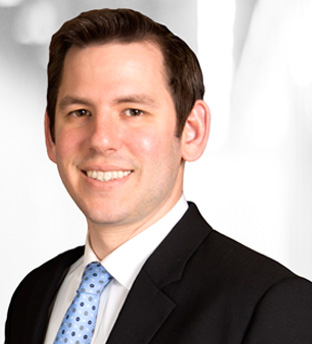 David A. Drescher, Esq. is a senior associate at Davis, Saperstein & Salomon P.C. David dedicates his practice to representing the rights of those injured due to the negligence of others, focusing primarily on motor vehicle, trucking and bus accidents as well as various types of premises cases. Before practicing personal injury law, David handled legal malpractice claims for individuals and corporations whose cases had been mishandled by other attorneys. David uses this expertise at the firm in his handling of complex personal injury matters.
David is passionate about helping clients get the compensation and justice they deserve for their injuries. He truly cares for each of his clients, takes the time to really get to know them on a personal and professional level, and fiercely advocates for them at every step along their litigation journey. He believes a trusting and open attorney-client relationship is key to maximizing the value of a case and attributes his own success to the way he leverages "clients' stories" with juries and insurance adjusters. He takes his responsibility and the privilege of being able to represent clients
during what is often a difficult time in their lives very seriously. Among colleagues, David has the reputation for doing "whatever it takes" to ensure his clients' satisfaction.
David attended the University of Florida where he earned his Bachelor of Arts in Political Science. He then went on to study law and receive his Juris Doctorate from Hofstra University School of Law. During law school, David was recognized by the Alternate Dispute Resolution Society for his top-notch negotiating skills in mediation and arbitration. He was also an active student contributor to the Legal Malpractice Law Review, a popular Internet-based legal research blog.